Swarovski Rhinestones
40 ss - Flat Back
Art. 2088
Swarovski 40ss rhinestones are available in the Xirius Rose style 2088 in Crystal and Crystal AB. The Xirius Rose Cut features a star design, a small table top and excellent sparkle. They are foiled back and can be glued or mounted.
Swarovski has discontinued production of the 2058 in Sizes SS12 and larger exchanging them with the new upgraded cut of 2088. Swarovski 2088 Flat back Rhinestones are made of Advanced Crystal and are lead free and compliant with international standards. Read and learn more about the xirius rhinestone.
Swarovski 40ss are no longer produced in most colors. We have selected colored rhinestones in this size, see table below.
They are sold in one dozen(12 pieces), 1/2 Gross or you can save by purchasing a 1 Gross factory sealed package.

Brand: Swarovski, Austria
Styles: Various
Diameter: approx. 8.6mm
Rhinestone Size: 40ss
Colors may have different rhinestones style #.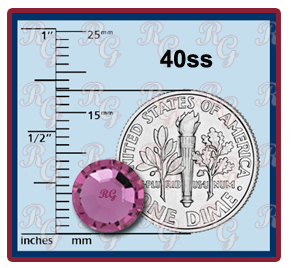 Swarovski 40Ss rhinestones are available in the following colors, Article 2028 2058, or 2088:
All shimmers are priced as AB Colors




















































**A Crystal effect or AB rhinestone price. We also have additional colors in 40ss under Czech Preciosa
Prices
GROSS

PRICE

-

(144 pieces / gross)

=

BULK PRICE

Swarovski 2088 Gross Prices

Rhinestone Style, depends upon availability. Swarovski 40ss factory package has 1 gross per box.
1 Gross = 144 rhinestones.
1/2 GROSS

PRICE

-

(72 pieces = 1/2 gross)

Swarovski 2088 1/2 Gross Prices

May be 2058 depending upon availability. 1/2 Gross = 72 rhinestones; Measured by weight

We do not sell smaller size stones by 1/2 Gross quantities.
DOZEN

PRICE

-

(12 pieces = 1 Dozen)

Swarovski 2058 and 2088 Dozen Prices

1 DOZEN = 12 rhinestones;

Colors are limited
---
Additional Sizes
Or, See Consolidated Price List