Swarovski 20ss Hot fix rhinestones are available in the Xirius Rose style 2078. Certain colors are available in 2038 style. The 2078 cut is the latest unique cut of stone by Swarovski creating a Star design, enhancing sparkle. These hot fix flat back rhinestones have rose gold foiling with heat activated glue for hot fix application.
Fun Facts - Swarovski 20ss rhinestones are the most popular size rhinestones. It is why when new colors become available they are the first to show on the market.
Swarovski has discontinued production of the 2038 hot fix rhinestones in sizes SS12 and larger exchanging them with the new upgraded cut of 2078. Swarovski 2078 Hot Fix Rhinestones are made of Advanced Crystal and are lead free and compliant with international standards. Read and learn more about the xirius rhinestone.
Most colors are produced in this size with a few exceptions. Certain AB Colors are no longer produced, however, we have some stock, call to check. Czech Preciosa Hot Fix 20ss Colors AB or RG Premium Rhinestones can be an alternative for those not available.
They are sold by the Gross or you can save by purchasing a 10 Gross factory sealed package.
Brand: Swarovski, Austria
Style: 2078
Type: Xirius Rose
Diameter: approx. 4.7mm
Rhinestone Size: 20ss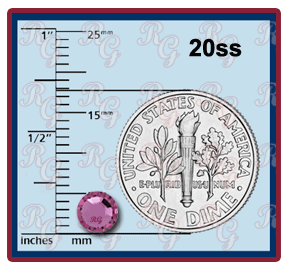 Select the tabs below for various quantities and pricing options:
Swarovski Hot Fix 2078 Gross Prices
1 Gross = 144 rhinestones;
1/2 Gross = 1/2G = 72 rhinestones;
Measured by weight
Gross

20SS(4.7mm)

1/2 Gross

20SS(4.7mm)
Crystal
$11.29
Crystal
$6.89 1/2G
Crystal AB
$15.59
Crystal AB
$9.39 1/2G
Color
$13.49
Color
$8.19 1/2G
Crystal Effects
$1559
Crystal Effects
$9.39 1/2G
Color AB
$16.79
Color AB
$9.99 1/2G
Swarovski Hot Fix 2078 Bulk Prices- best Value - Save
Factory Sealed Package - 10 Gross Package (1,440 rhinestones)
Swarovski Crystals Additional Rhinestone Stone Sizes:
See Prices By Size
Or, See Consolidated Price List


Here you can find at reduced prices
Swarovski Vintage Rhinestones
Swarovski 2058 & 2038 Rhinestones
Rhinestone Shapes & More...