Swarovski Spikes - Round and Square Crystals
Art. 2019 Round, Art. 2419 Square Flat Backs
Swarovski Spikes are three dimensional and feature multitude of facets. They come in two styles, round and square bases. They are available in three graduating sizes. Larger sizes of these beautiful spikes are available in a Sew On Format, Swarovski Art. 3296 and 3297.
The spikes are available in the following colors: Crystal, Crystal AB, Golden Shadow and Volcano.
The crystal spikes comes in 3 sizes, 4mm, 5mm and 6mm.
They are sold by the Dozen (12 pieces). We also sell them in factory sealed packages (Bulk) at a discount.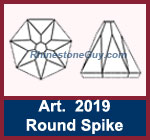 Brand: Swarovski, Austria
Name: - Round & Square Spike -Flat Back
Article #: 2019 & 2419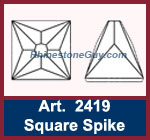 Available Sizes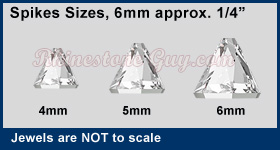 The following are colors that we carry in stock: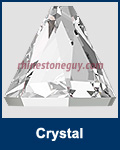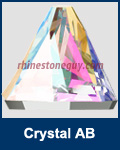 Effect Colors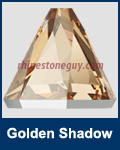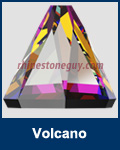 Swarovski Round and Square Spikes are sold by the Dozen or by the Box (Bulk),
1 Dozen = 12 pieces. 12 Dozen = 144 pieces; 6 dozen = 72 pieces
Size

4mm

- Dozen

5mm

- Dozen

6mm

- Dozen
Bulk/Box

4mm-12 Dozen

5mm-6 Dozen

6mm-6 Dozen
Crystal
$4.29
$5.09
$5.99
Crystal
$42.49
$25.09
$29.79
Crystal AB
$4.89
$5.89
$6.79
Crystal AB
$47.99
$28.39
$33.69
Effect Colors
$4.89
$5.89
$6.79
Effect Colors
$47.99
$28.39
$33.69
Other Swarovski Shapes (click to visit)
Find your Swarovski crystals at Rhinestone Guy
Stand out from the crowd. Swarovski inspires the world of fashion, art and design with its leading innovations, design and trends' expertise. Swarovski rhinestones and crystal components are made of ""advanced crystal" and are lead free*, compliant with international standards.
*Crystal Glass and all other materials containing 0.009% lead or less