RG Premium Luxury Curved Shapes ~ Flat Back
Rhinestone Guy's (RG) Premium Luxury Curved flat back rhinestones shapes are available in a variety of shapes and selected sizes. Each feature unique facets. They have an amazing shine. These are great stones, at an excellent price point for nail art and any design application. Our collection of curved shapes includes: Butterflies, Pear, Navettes and Raindrops. We've got additional geometric stones with baguette, diamonds, rhombus, star, triangle and wing shapes. We carry some larger flat back shapes, see links below.The curved shapes feature foil on the back of the stones for extra reflection and sparkle.
Sizes are as noted. They are sold by the Dozen (12 pieces) or discounted, bulk, by the Gross.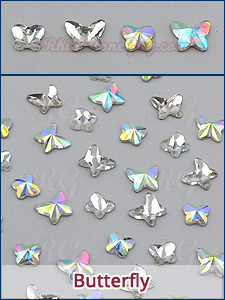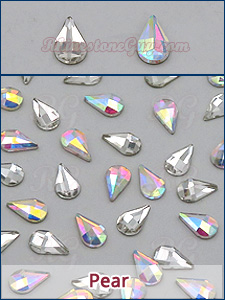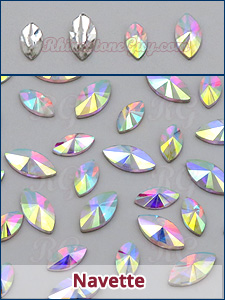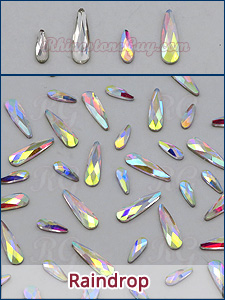 ---
RG Luxury Curved Shape Crystals are sold as follows:

1 Dozen = 12 pieces;


Bulk Prices (discounted)- quantities as noted:

1 Gross = 12 dozen = 144 pieces

| Size | Quantity | Crystal | Crystal AB | Discounted | Crystal | Crystal AB |
| --- | --- | --- | --- | --- | --- | --- |
| Butterfly 6mm (B02) | 1 Dozen(12) | $1.99 | $2.29 | 1 Gross (144) | $16.99 | $19.99 |
| Butterfly 8mm (B25) | 1 Dozen(12) | $2.29 | $2.59 | 1 Gross (144) | $19.99 | $21.79 |
| Navette 8x4mm (N01) | 1 Dozen(12) | $1.99 | $2.29 | 1 Gross (144) | $16.99 | $19.99 |
| Navette 10x6mm (N15) | 1 Dozen(12) | $2.29 | $2.59 | 1 Gross (144) | $19.99 | $21.79 |
| Pear 8x4mm (P01) | 1 Dozen(12) | $1.99 | $2.29 | 1 Gross (144) | $16.99 | $19.99 |
| Raindrop 6x2mm (R01) | 1 Dozen(12) | 1.99 | 2.29 | 1 Gross (144) | $16.99 | $19.99 |
| Raindrop 10x3mm (R15) | 1 Dozen(12) | $2.29 | $2.59 | 1 Gross (144) | $19.99 | $21.79 |
Other RG Luxury Flat Back Crystal Shapes (click to visit)
---