Rhinestone Guy Crystals for Nail Art
Crystal Luxury Rhinestone Shapes, Designed with Nail Art in Mind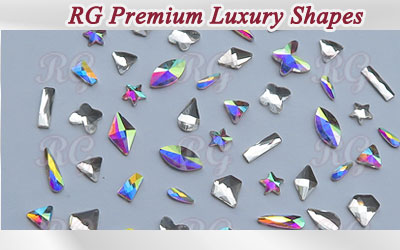 Rhinestone Guy's luxury shapes for nails are a great alternative to Swarovski or Czech shapes at an excellent price point yet high brilliance and shine. Fun shapes, featuring a variety of facets, in Crystal & Crystal AB, in a few sizes for every job. Sold by the dozen or in bulk (discounted) these beautiful shapes can help you create master piece nails.
---
Incorporate Small Rhinstones from our Bright Choice or RG Studio Flat Back Crystals to complete your design:
Rhinestone Guy's Bright Choice stones are available in graduating sizes: SS6, SS10 and Up. RG Studio Stone are avaiable in graduating sizes: SS6, SS8, SS10 and up. Many colors to choose from at a great price point.