Preciosa Fashion Sew On Jewelry
Preciosa Star, Art 3001 & Flower, Art 3004
Preciosa Fashion Jewelry Sew On feature pointed back, chaton stones, in Rhodium, Silver Plated brass setting. These beautiful sew ons have a single loop in the center back so they can be used as functional or faux buttons. They can also be used as a decorative element.
Art 3001, Star, is 20mm, featuring Maxima 8x4.8mm pears and SS18 and SS15 round chatons.
Art 3004, Flower, is 23mm, featuring Maxima 8x4.8mm navettes and SS18 chatons.
Both are available in Crystal and Crystal AB and are sold by the piece or a 2 Dozen Box (24 pieces) Discounted.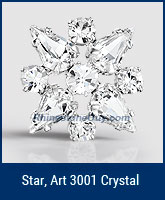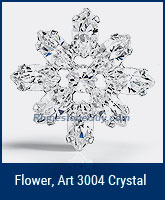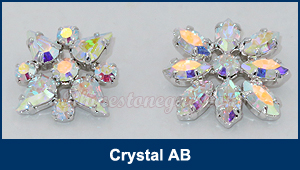 Czech Preciosa Sew On Rectangles are sold as follows:

1 Dozen = 12 pieces;


Bulk Prices (discounted):

6 Dozen =72 pieces; 2 Dozen = 24 pieces
Size
Quantity
Crystal
Crystal AB
Art 3001 Star - 20mm

1 EACH

$7.29
$8.29
Art 3004 Flower - 23mm

1 EACH

$9.49
$11.49

Bulk Discounted Prices

Art 3001 Star - 20mm
2 Dozen (24)
$147.09
$167.29
Art 3004 Flower - 23mm
2 Dozen (24)
$196.69
$232.79
Other Czech Preciosa Sew On Jewels
---