Swarovski Crystals New Releases
Swarovski is and has been a leader and the premium brand for the finest crystal elements. For more than 100 years, the company has been recognized for innovations and inspiration. Here are highlights of the most recent releases.
---
Swarovski Innovations & Inspirations
Spring/Summer 2021

~ Time to Shine ~
Capture Significant Moments of Time - Sparkling Moments from which Memories are created .
Swarovski 2021 Spring / Summer collection's theme is abut slowing down in our fast paced digital era and living in the now. Taking time to build sparkling memories and living in the now. Taking time to appreciate time with loved one, and enjoy activities that bring us happiness.
New Color added to the line up:
IRIS

The new color is an elegant and luxurious purple, darker and more intense than Light Amethyst and paler than Amethyst.
New Geometric Shapes
New shapes added to the geometric shapes family. Two styles of Hexagons and Two styles of Pentagons. They are designed to work together and to combine with prior Geometric shapes for expanded embellishment design possibilities. The three colors will work together and create fantastic purple Ombré and shading patterns.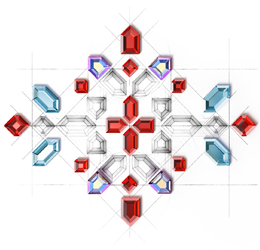 Core Assortment Light Rose - Color Line Expansion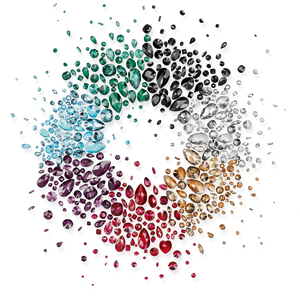 Swarovski Core Assortment of Colors expanded in Light Rose, a classic color and most used pink shade. Swarovski Art. 2200 Navettes, Art 2300 Pears, Art 2400 Square, Art 3200 Rivoli and 3230 Pears are now available in Light Rose.


---
Electric DeLites!
A special effect version of the Electric Lacquer Pro crystals, combine with the Electric Stones for a fantastic combination, available in Swarovski 2088, SS12, SS16, SS20 and SS30 and SS10, SS34 in Hotfix format







---
HOT TREND!
East to West, neon lights brighten many cities' nights… It's electric.  Now you can amp up your performance with high voltage Swarovski Crystal Electric lacquer pro stones.  Switch on the neon lights for high energy and extreme brilliance under the spotlights.  Introducing the new lacquer pro crystal electric colors: electric blue, electric green, electric orange, electric pink, electric yellow and electric white. Rhinestones created to deliver high glow in the dark octane sparkle.  Mixed with Swarovski's shimmer colors and our electric jet, high voltage blue and laser white, you will capture your audience the minute you step onto the stage. 
Shop Swarovski Flat Back Rhinestones











---
Find your Swarovski crystals at Rhinestone Guy
Stand out from the crowd. Swarovski inspires the world of fashion, art and design with its leading innovations, design and trends' expertise. Swarovski rhinestones and crystal components are made of ""advanced crystal" and are lead free*, compliant with international standards.
*Crystal Glass and all other materials containing 0.009% lead or less