Swarovski CrystalPixie™ Edge for Nails and Nail Art
Look sharp and Rock the world with the Edge and Bold CrystalPixie Edge. The Crystalpixie Edge is made up thousands of bi-cone cuts, loose crystal ultra fine, super sharp rocks in PP9. Brilliant and eye catching creating a glam-punk look that will make a statement. The crystalpixie edge spikes differentiate it from the crystalpixie petite. It can be worn alone or mixed with other Swarovski nail art rhinestones, shapes and products.

For Actual colors and texture see Product photos below
The CrystalPixie Dege is available in 6 exciting colors, and come in a 5 gram bottle that includes a funnel to easily pour unused material back into the bottle.
The 5 gram bottle will take care of approximately 25 nail designs creating a colourful and noticable impression.
CrystalPixie Edge Color:
Cute Mood a play of the rainbow of color, the closet you will get to the most popular of crystal color, crystal AB.
White Ballet a soft, pale white opal, minimal, elegant yet up to date trendy.
Add sparkle to your manicure or pedicure with Swarovski CrystalPixie. CrystalPixie can be used by itself or incorporated with Swarovski rhinestones, crystal shapes, and more to create unique designs. Let your imagination go. Application instructions in each package. Can be used with Regular Nail polish application or Gel Application.

CrystalPixie™ Edge is available in
5 Grams filled with amazing sparkle.
$27.49
Per Bottle

- In Stock: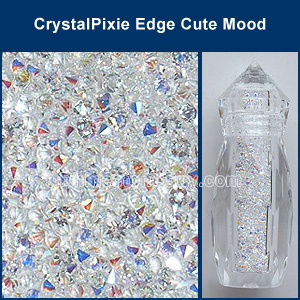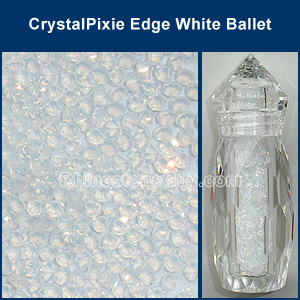 ---
Available Colors by Special Order:
Heart's Desire A sensual and passionate true red, indian siam to light up your senses.
Sahara Blue an inspiration from middle eastern mosaics with bermuda blue crystals.
Blossom Purple a fresh spring of flowers with a cyclamen opal pastel as its base foundation.
Tropic Seafoam created with mint alabaster crystal that reflect the tropical waves of turquoise ocean.


---
Explore CrystalPixie Petite or Crystal Pixie Bubble
---
Find your Swarovski crystals at Rhinestone Guy
Stand out from the crowd. Swarovski inspires the world of fashion, art and design with its leading innovations, design and trends' expertise. Swarovski rhinestones and crystal components are made of ""advanced crystal" and are lead free*, compliant with international standards.
*Crystal Glass and all other materials containing 0.009% lead or less