Swarovski Art. 2738, 2739, 2740 Triangles - Flat Back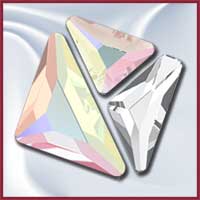 Swarovski Triangles feature three uniquely and differently sized shaped, Alpha, Beta & Gamma. They are designed to work together to create a mosaic type square as featured in the photo. Of course, they can be used independently.
This geometric shaped crystals have flat tops and surrounding facets. They are flat back and silver foiled for extra reflection.
Each style is available in 2 sizes, and the sizes from each will work together.
We carry them in Crystal and Crystal AB, additional colors are available by special order, Call for stock and availability.
Available colors: Standard Colors: Dark Grey, Dark Red, Jet, Blush Rose, Light Colorado Topaz, Light Sapphire, Light Siam, Ivory Cream. Effects: Astral Pink, Bermuda Blue, Golden Shadow, Luminous Green, Silver Night.

Brand: Swarovski, Austria
Name: Alpha, Beta & Gamma Flat Back
Article #: 2738, 2739, 2740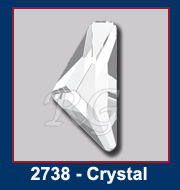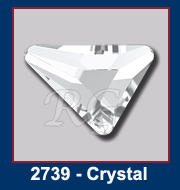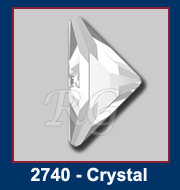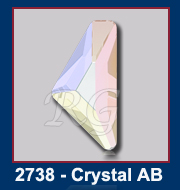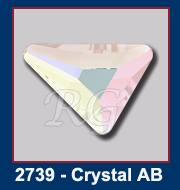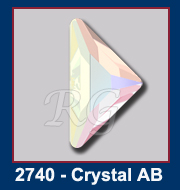 Art Alpha, Beta and Gamma Triangles are sold as follows:

1 Dozen = 12 pieces


Bulk Prices (discounted): as noted

Size
Quantity
Crystal
Crystal AB
Art 2738 - Alpha Triangle
10x5mm
1 Dozen (12)
$5.89
$7.29
12x6mm
1 Dozen (12)
$8.99
$10.69
Art 2739 - Beta Triangle
5x5mm
1 Dozen (12)
$3.69
$4.29
7x7mm
1 Dozen (12)
$5.19
$6.29
Art 2740 - Gamma Triangle
8x8mm
1 Dozen (12)
$9.19
$10.7
10x10mm
1 Dozen (12)
$11.29
$13.59

Factory Package ~ Discounted Prices

Art 2738 - Alpha Triangle
10x5mm
12 Dozen (144)
$58.69
$70.39
12x6mm
8 Dozen (96)
$65.29
$70.59
Art 2739 - Beta Triangle
5x5mm
18 Dozen (216)
$53.09
$63.69
7x7mm

12 Dozen (144)

$51.19
$60.39
Art 2740- Gamma Triangle
8x8mm
18 Dozen (216)
$135.29
$161.09
10x10mm

8 Dozen (96)

$74.29
$88.99
---