Swarovski Fancy Stones
Art. 4841 Cubes, Art 4869 Disco Balls
These Fancy Stones are suitable for nail art, Jewelry and hard surfaces
Swarovski Fancy stones, Cube and Disco Ball, are three dimensional. One side is flat for application. They are great for creating earrings as the on flat surface can be glued to a post. They are very popular with nail art as well as they have height and dimension.
The cube, is multidimensional with a flat bottom, a one-of-a-kind style from Swarovski. It has a geometric structure with beautiful linear facets on it edges, creating brilliance and shine.
The Disco Ball Fancy is a multi-faceted set around its core, like its name, it reminds us of a disco ball. It features a small flat bottom and therefore makes is an option for gluing to a earrings post, and nail art.
The fancy Swarovski shapes are sold by the the Dozen (12 pieces), by Gross (144 Pieces) or in a bulk package, as noted, at a discount.
We carry these shapes in 4mm in Crystal AB.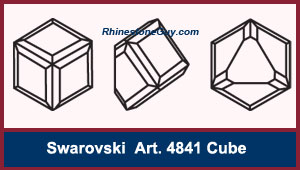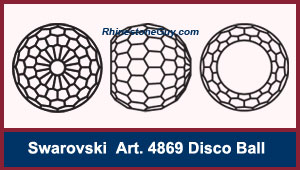 Click on

PRICE TABS

below for various quantities and pricing options:
Swarovski 4841 Cubes, 4869 Disco Ball, Dozen Prices
1 Dozen = 12 rhinestone shapes;
Swarovski 4841 Cubes, 4869 Disco Ball, 1 Gross Prices
1 = 144 rhinestone Shapes
Swarovski 4841 Cubes, 4869 Disco Ball, Bulk Prices
* Art 4841 = Bulk package has 2 Gross, 288 pieces
** Art 4869 = Bulk package has 3.33 Gross, 480 pieces
Other Swarovski Flat Backs
(click to visit)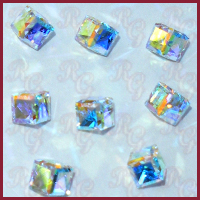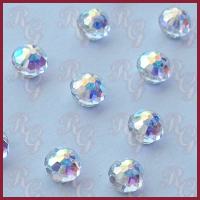 Find your Swarovski crystals at Rhinestone Guy
Stand out from the crowd. Swarovski inspires the world of fashion, art and design with its leading innovations, design and trends' expertise. Swarovski rhinestones and crystal components are made of ""advanced crystal" and are lead free*, compliant with international standards.
*Crystal Glass and all other materials containing 0.009% lead or less