Swarovski Baroque Mirror Flat Back Fancy Stone
Art. 4142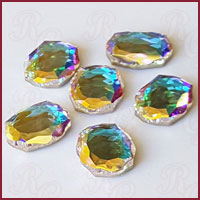 The Baroque Mirror Fancy Stone is a flat back crystal. Mixing a vintage yet modern design, the flat fancy stone features a multilayered cut with a large table. Its classic oval shape adds to its versatility. The shape large table top resembles an oval mirror with all around facets creating a sparkley frame.
The stone's light weight and height have made the Baroque Mirror Fancy Stone very popular in, nail art, the jewelry and fashion segments, working particularly well in earrings, rings, and textile applications.
The Baroque mirrors come in two graduating sizes, 10x8mm and 14x10mm. 18x14mm is also available by special order.
The Baroque Mirrors are sold by the Dozen (12 Pieces). We also sell them in a factory sealed package (Bulk) at a discount.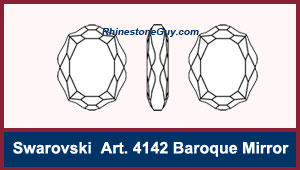 Brand: Swarovski, Austria
Name: Baroque Mirror, Fancy Stone, Flat Back
Article #: 4142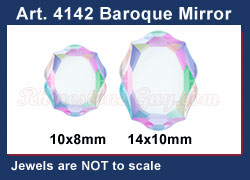 ---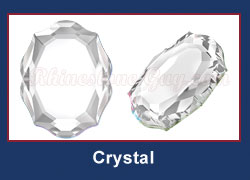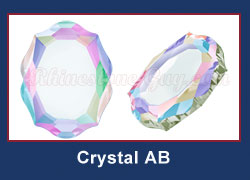 Swarovski Baroque Mirrors are sold by the Dozen or by the Box (In Bulk), Discounted as noted.
1 Dozen (DZ)= 12 pieces;
3 Dozen (DZ)=36 Pieces;
6 Dozen (DZ)=(72 Pieces)
Size

10x8mm-Dz

14x10mm-Dz

Bulk (Box)

10x8mm-6 Dz

14x10mm-3 Dz
Crystal
$12.19
$20.39
Crystal
$60.09
$50.69
Crystal AB
$14.29
$24.29
Crystal AB
$70.89
$60.19
Other Swarovski Shapes (click to visit)
Find your Swarovski crystals at Rhinestone Guy
Stand out from the crowd. Swarovski inspires the world of fashion, art and design with its leading innovations, design and trends' expertise. Swarovski rhinestones and crystal components are made of ""advanced crystal" and are lead free*, compliant with international standards.
*Crystal Glass and all other materials containing 0.009% lead or less