Swarovski Slim Triangle Sew On
Art. 3271
Swarovski 3271 Sew On Slim Triangle are a modern update to the standard Art 3270 Triangle. It is fresh and bold with brilliant facets and 2 holes drilled on each side for sewing. The 3271 Slim Triangle sew on stones feature foil on the back (except for the Jet) for extra reflection. Sewing jewels are great for added style and sparkle.
They are available in two larges sizes sizes 18x21mm and 25x29mm in Crystal, Crystal AB, amd selected colors as shown below.
Swarovski Slim Triangles are sold by the Piece or by the Box (discounted).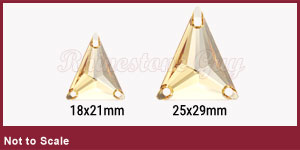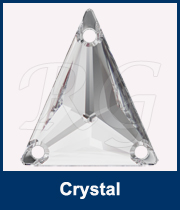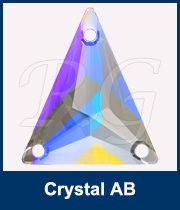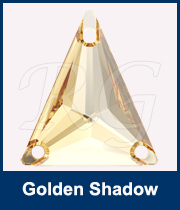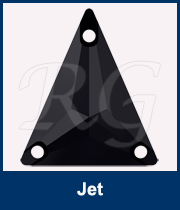 Prices
DOZEN

PRICE

-

(12 Pieces / Dozen)

BULK

PRICE

-

(by the package as noted)

Swarovski Cosmic 3265 Sew On:

Price per Each, or in Bulk. Dz = Dozen 12 pieces; P = Pieces; Ea = Each
6 Dozen = 72 pieces
N/A = Not Available

Color

Crystal

Crystal AB

Golden Shadow

Jet (black)

Bulk

Crystal

Crystal AB

Golden Shadow

Jet (Black)

18x21.1mm
$2.59 Each
$3.19 Each
$3.19 Each
$2.59 Each
18x21mm-15ea
$30.79
$39.09
$39.09
$30.79

25x28.7mm
$4.09 Each
$5.09 Each
$5.09 Each
$4.09 Each
25x29mm-8 ea
$26.59
$33.69
$33.69
$26.59
Other Swarovski Sew On Jewels
(click to visit)
Find your Swarovski crystals at Rhinestone Guy
Stand out from the crowd. Swarovski inspires the world of fashion, art and design with its leading innovations, design and trends' expertise. Swarovski rhinestones and crystal components are made of ""advanced crystal" and are lead free*, compliant with international standards.
*Crystal Glass and all other materials containing 0.009% lead or less