Swarovski Cosmic Sew On Stone ~ Art. 3265
Effective May 2021 Swarovski discontinued distribution of crystal loose components to consumers, worldwide. But, there are alternatives.
Swarovski 3265 Cosmic Sew On stone is a multi faceted stone with a unique shape with 2 holes drilled on each side for sewing. The best way to describe the cosmic sew on is: an irregular parallelogram with multi directional facets.
For Cosmic Sew On Stones in Crystal, Crystal AB and selected colors, the alternative is the RG Premium Sew On Cosmic. Link Below:
RG Cosmic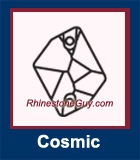 ---