Swarovski Emerald Cut Sew On Stone ~ Art. 3252
Effective May 2021 Swarovski discontinued distribution of crystal loose components to consumers, worldwide. Once our Swarovski stock is depleted, the crystals will no longer be available for purchase. But, there are alternatives.
Swarovski 3252 sew on Emerald Cut Jewels are larger jewels with an elegant and traditional jewel-like brilliance and style. facets and 2 holes drilled on each side for sewing.
RG 3252 Premium Emeral Cut Sew on Stones are the alternative.
follow the link. They are available in Crystal, Crystal AB and a great selection of colors, Here is the link:
RG 3252 Emerald Cut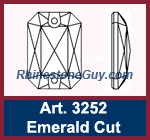 ---