Swarovski Art. 2856 Skull Flat Back

Swarovski Art. 2856 Skulls feature multitude of facets with a flat back. We bring them to you in great colors, Crystal AB, Golden Shadow, Jet. Light Chrome and Hematite.
The Skull Shape comes in 3 different sizes, 10x7.5mm, 14x10.5mm and 18x14mm.
Check out the concepts patterns and designs we created with the moon and other rhinestone shapes.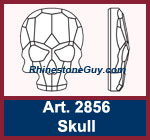 Brand: Swarovski, Austria
Name: Skull - Flat Back
Article #: 2856
Skull with Stones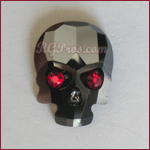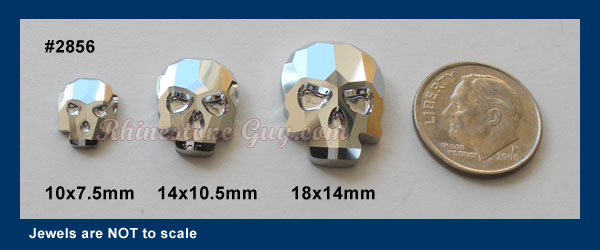 EFFECT COLORS:



Swarovski Art 2856 Flat Back Skulls are sold as follows:

1 Dozen = 12 pieces;


Bulk Prices (discounted): as noted

Size
Quantity
Crystal AB & Effects
Jet Unfoiled
Hematite Unfoiled
10x7.5mm
1 Dozen (12)
$15.99
$13.89
$15.59
14x10.5mm
1 Dozen (12)
$26.39
$23.49
$25.69
18x14mm
EACH
$3.59
$3.19
$3.49

Factory Package ~ Discounted Prices

10x7.5mm

6 Dozen (72)

$79.39
$70.19
$77.09
14x10.5mm

3 Dozen (36)

$65.59
$58.19
$63.79
18x14mm

30 pieces

$85.59
$75.69
$83.19
---