Swarovski Skull
Art. 2856 - Flat Back

Swarovski 2856 Skulls have multitude of facets.
We bring them to you in great colors, Crystal AB, Golden Shadow, Jet. Light Chrome and Hematite.
The Skull Shape comes in 3 different sizes, 10x7.5mm, 14x10.5mm and 18x14mm.
They are sold by the Dozen (12 pieces). We also sell them in factory sealed packages (Bulk) at a discount. You may order the smaller sizes or other colors (if available) by the box.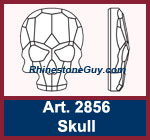 Brand: Swarovski, Austria
Name: Skull - Flat Back
Article #: 2856
Available Sizes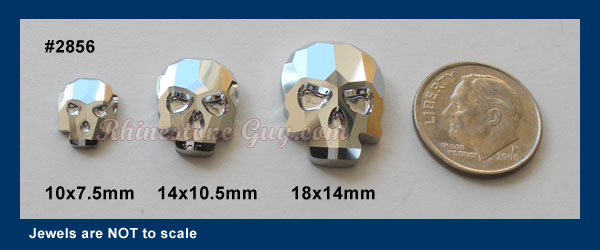 The following are colors that we carry in stock:



EFFECT COLORS:



Swarovski Skulls are sold by the Dozen, Excapt for the largest size, sold by Each. For discounts consider purchasing by the Box (Bulk)
1 Dozen = DZ = 12 pieces.
3 Dozen = 36 pieces
6 dozen = 72 pieces
PCS = Pieces
Size
10x7.5mm-Dozen
14x10.5mm-Dz
18x14mm- EACH
Bulk/Box
10x7.5mm-6 Dz
14x10.5mm-3 Dz
18x14mm-30 Pcs
Crystal AB
$15.99
$26.39
$3.59 Each
Crystal AB
$79.39
$65.59
$85.59
Effects
$15.99
$26.39
$3.59 Each
Effects
$79.39
$65.59
$85.59
JET
$13.89
$23.49
$3.19 Each
JET
$70.19
$58.19
$75.69
Hematite
$15.59
$25.69
$3.49 Each
Hematite
$77.09
$63.79
$83.19
Find your Swarovski crystals at Rhinestone Guy
Stand out from the crowd. Swarovski inspires the world of fashion, art and design with its leading innovations, design and trends' expertise. Swarovski rhinestones and crystal components are made of ""advanced crystal" and are lead free*, compliant with international standards.
*Crystal Glass and all other materials containing 0.009% lead or less