Swarovski Edelweiss
- CLEARANCE SALE
Art. 2753 - Flat Back
Swarovski 2753 Edelweiss rhinestone shape is a tribute to one of Austria's favorite flowers. It is how Swarovski company is celebrating of its 120th anniversary and their first logo. The Shape is very unique and features many facets. While they portray a flower, they can be used in many designs and are beautiful. We, at rhinestone guy think that they can make sparkly snow flakes.
They are available in two sizes. 10mm and 14mm. The larger size is sold by the piece and can be an excellent decoration on the collar of showmanship shirts, lapels, and as a center jewel. Snow flakes on an ice skating dresses can be just amazing.
They are foiled backed for extra reflection and are available in both in Crystal and Crystal AB.
The Fan have a flat back and are silver foiled. They are sold by the Dozen (12 pieces) , the large one by the piece.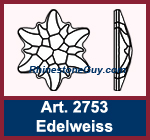 Brand: Swarovski, Austria
Name: Edelweiss Flat Back
Article #: 2753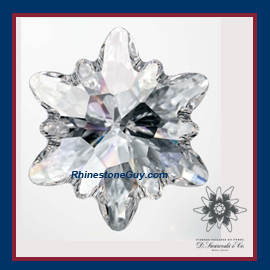 Swarovski Edelweiss is sold by the Dozen(except for the 14mm that is also sold by the piece)
1 Dozen = 12 pieces
Size

10mm

-Dozen

14mm

-Dozen

14mm-Each
Crystal
$17.09
$24.29
$2.39 Each
Crystal-SALE!
$13.69
$19.49
$1.99 Each
Crystal AB
$19.29
$27.49
$2.59 Each
CrystalAB-SALE!
$15.49
$21.99
$2.09 Each
Other Swarovski Shapes (click to visit)
Find your Swarovski crystals at Rhinestone Guy
Stand out from the crowd. Swarovski inspires the world of fashion, art and design with its leading innovations, design and trends' expertise. Swarovski rhinestones and crystal components are made of ""advanced crystal" and are lead free*, compliant with international standards.
*Crystal Glass and all other materials containing 0.009% lead or less