Swarovski Art. 2720 Cosmic Delta Triangle Flat Back
Swarovski Cosmic Delta shape is an unusually faceted geometric Triangle with a beautiful dimension. Its irregular facet cut and silver foiled create shine and extra reflection. Rhinestone shapes are great for added design, style and sparkle.
The Cosmic Delta Triangle shape is available in 7.5mm and 12.5mm in Crystal, and silver shade in 7.5mm
If you need a flat triangle, to complement Swarovski Navette 2200, Pear 2300 or Square 2400, we have a similar cut flat back triangle in Czech Preciosa (6mm) or you can glue the Swarovski hot fix 2711 Triangle.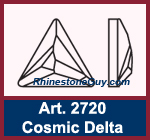 Brand: Swarovski, Austria
Name: Cosmic Delta Flat Back
Article #: 2720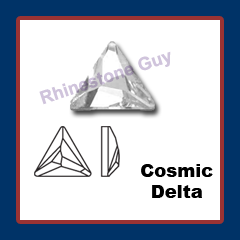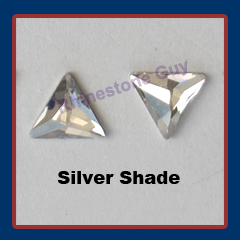 Swarovski Art 2720 Flat Back Cosmic Delta Triangles are sold as follows:

1 Dozen = 12 pieces;


Bulk Prices (discounted): as noted

Size
Quantity
Crystal
Silver Shade
7.5mm
1 Dozen (12)
$5.69
$6.79
12.5mm
1 Dozen (12)
$14.19
N/A

Factory Package ~ Discounted Prices

7.5mm
20 Dozen (240)
$94.69
$111.49
12.5mm
12 Dozen (144)
$139.79
N/A
---