Swarovski Jelly Fish
Art. 2612 - Flat Back, partly frosted
20% OFF CLEARANCE SALE
Swarovski 2612 Jelly Fish has a rounded, square look with multitude of facets with partly frosted giving the rhinestone shape depth and dimension. This beautiful shape is part of the Swarovski's Ocean Mysteries collection designed by Céline Cousteau.
We bring them to you in six great colors, Crystal, Crystal AB, Bermuda Blue, Golden Shadow, Jet and Silver Night.
The Jelly Fish Shape comes in 3 different sizes. 14mm (a bit larger than 1/2 inch), 10mm and 6mm (like a 30ss rhinestone).
They are sold by the Dozen (12 pieces).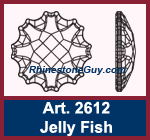 Brand: Swarovski, Austria
Name: Jelly Fish - Flat Back
Article #: 2612

Available Sizes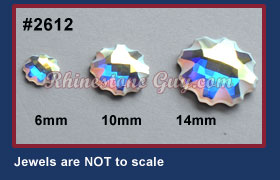 The following are colors that we carry in stock: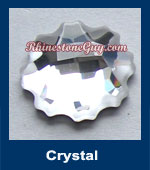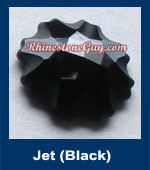 Effect Colors: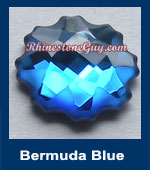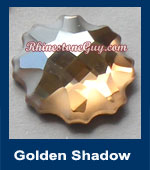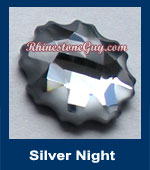 Additional Standard Colors by special order:
Blush Rose, Tanzanite, White Opal


Additional Effect Colors by special order:

Blue Shade, Luminous Green


See Bulk prices for quantity and price
Swarovski Jelly Fish are sold by the Dozen the 14mm rhinestone shapes is also available by the piece.
1 Dozen = 12 pieces.
Size

6mm

- Dozen

10mm

- Dozen

14mm

- Dozen

14mm EACH
Crystal/Jet
$5.99
$17.09
$24.29
$2.29
Cr/Jet-Sale
$4.79
$13.69
$19.49
$1.89
Effect Colors
$6.69
$19.29
$27.49
$2.49
Effects-Sale
$5.39 no BB
$15.49
$21.99
$1.99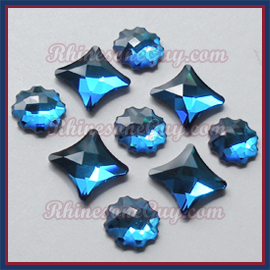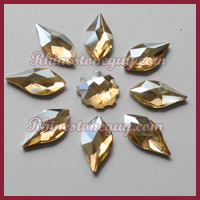 Other Swarovski Shapes (click to visit)
Find your Swarovski crystals at Rhinestone Guy
Stand out from the crowd. Swarovski inspires the world of fashion, art and design with its leading innovations, design and trends' expertise. Swarovski rhinestones and crystal components are made of ""advanced crystal" and are lead free*, compliant with international standards.
*Crystal Glass and all other materials containing 0.009% lead or less