Swarovski Art. 2494 Starlets Flat Back
Swarovski 2494 starlets have a unique shape, a square with inward concaved, curved, sides, creating outward flares, like a star. Available in a great selection of colors, they are flat back and silver foiled for extra reflection. The jet, black, color is unfoiled.
These shape is very versatile as it is geometric, yet smooth. It is excellent for creating unique designs. See some concept pictures below. Rhinestone shapes are great for added design, style and sparkle.
We bring them to you in Crystal, Crystal AB, and selected colors in graduating sizes.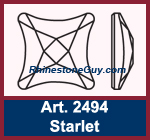 Brand: Swarovski, Austria
Name: Starlet Flat Back
Article #: 2494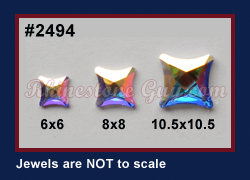 The following are colors that we stock: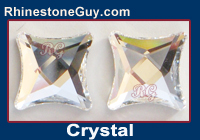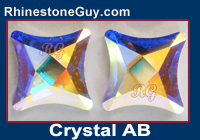 Standard Colors:

Effect Colors:


Swarovski Art 2494 Flat Back Starlets are sold as follows:

1 Dozen = 12 pieces;


Bulk Prices (discounted): as noted

Size
Quantity
Crystal
Crystal AB
Standard Colors
Effect Colors
6mm
1 Dozen (12)
$3.99
$4.69
$4.29
$4.69
8mm
1 Dozen (12)
$8.29
$9.89
$9.09
$9.89
10.5mm
1 Dozen (12)
$11.29
$13.59
$12.49
$13.59

Factory Package ~ Discounted Prices

6mm
220 Pieces
$58.69
$70.39
$64.59
$70.39
8mm
12 Dozen (144)
$81.59
$97.89
$89.89
$97.89
10.5mm
8 Dozen (96)
$74.29
$88.99
$81.59
$88.99
---