Swarovski Starlets
Art. 2494 - Flat Back
Swarovski 2494 starlets have a unique shape, a square with inward concaved, curved, sides, creating outward flares, like a star. Available in a great selection of colors, they are flat back and silver foiled for extra reflection. The jet, black, color is unfoiled.
These shape is very versatile as it is geometric, yet smooth. It is excellent for creating unique designs. See some concept pictures below. Rhinestone shapes are great for added design, style and sparkle.
We carry them in stock in 3 different sizes and selected colors. They are sold by the Dozen (12 pieces). We also sell them in factory sealed packages (Bulk) at a discount.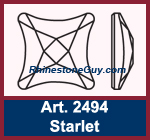 Brand: Swarovski, Austria
Name: Starlet Flat Back
Article #: 2494

Available Sizes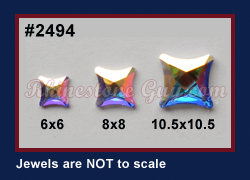 The following are colors that we carry in stock: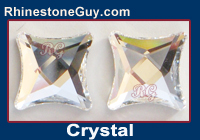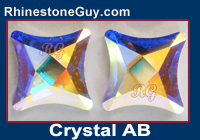 Standard Colors:

Effect Colors:


Swarovski Starlets are sold by the Dozen or by the Box (Bulk)
1 Dozen = 12 pieces, Pcs = Pieces
Additional colors available: Light Turquoise, Smoky Mauve (std colors) and Luminous Green (effect color) by Special Order, minimum purchase - Box.
Size

6mm

- Dozen

8mm

- Dozen

10.5mm

- Dozen
Bulk/Box
6mm-220 pieces

8mm

-1 Gross
10.5mm-96 Pcs
Crystal
$3.99
$8.29
$11.29
Crystal
$58.69
$81.59
$74.29
Crystal AB
$4.69
$9.89
$13.59
Crystal AB
$70.39
$97.89
$88.99
Colors
$4.29
$9.09
$12.49
Colors
$64.59
$89.89
$81.59
Effect Colors
$4.69
$9.89
$13.59
Effect Colors
$70.39
$97.89
$88.99
Other Swarovski Shapes (click to visit)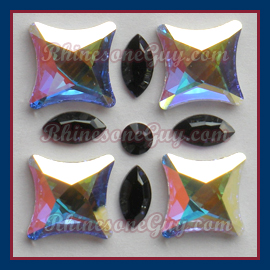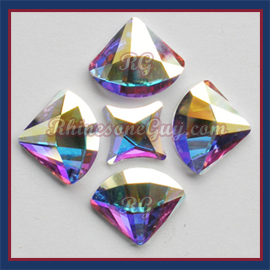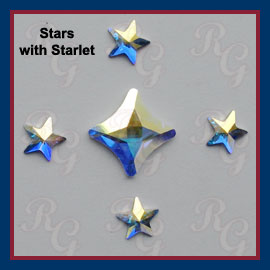 Find your Swarovski crystals at Rhinestone Guy
Stand out from the crowd. Swarovski inspires the world of fashion, art and design with its leading innovations, design and trends' expertise. Swarovski rhinestones and crystal components are made of ""advanced crystal" and are lead free*, compliant with international standards.
*Crystal Glass and all other materials containing 0.009% lead or less