Swarovski Art. 2403 Pyramid (Square) Flat Back
Swarovski 2403 pyramids have a flat top with facets on the edges. They differ from the Swarovski 2400 square as they are taller. They feature a silver foil back for extra reflection, except for the jet pyramid that is unfoiled. Add geometric shapes to your creations. Rhinestone shapes are great for added design, style and sparkle.
The pyramids come in three graduating sizes. 4mm - similar in size to a 16ss rhinestone, 6mm - similar in size to a 30ss rhinestone and 10mm - similar to a 40 ss rhinestone. The 10mm is only available in Crystal and Jet. The Jet and Hematite pyramid square are not foiled.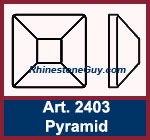 Brand: Swarovski, Austria
Name: pyramid Flat Back
Article #: 2403
Available Sizes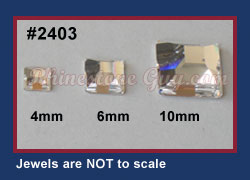 Effect Colors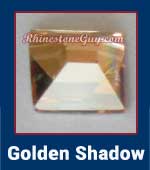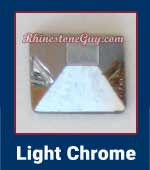 Swarovski Art 2403 Flat Back Pyramid (squares) are sold as follows:

1 Dozen = 12 pieces; UF = Unfoiled


Bulk Prices (discounted): as noted

Size
Quantity
Crystal
Crystal AB
Effects
Jet
Hematite
4x4mm
1 Dozen (12)
$2.79
$3.19
$3.19
$2.79 UF
$2.99 UF
4x4mm
1/2 Gross (72)
$8.99
$12.59
$12.59
$8.99 UF
$11.69 UF
4x4mm
1 Gross(144)
$16.69
$23.29
$23.29
$16.69 UF
$21.69 UF
6x6mm
1 Dozen (12)
$3.19
$3.99
$3.99
$3.19 UF
$3.79 UF
6x6mm
1/2 Gross( 72)
$11.69
$17.69
$17.69
$11.69 UF
$16.19 UF
6x6mm
1 Gross (144
$19.29
$26.99
$26.99
$19.29 UF
$24.99 UF
10x10mm
1 Dozen (12)
$5.59
N/A
N/A
$5.59 UF
N/A
10x10mm
1/2 Gross (72) - bulk
$27.99
N/A
N/A
$27.99 UF
N/A

Factory Package ~ Discounted Prices

4x4mm
5 Gross (720)
$69.99
$97.89
$97.89
$69.99 UF
$89.09 UF
6x6mm
1 Gross (144
$19.29
$26.99
$26.99
$19.29 UF
$24.99 UF
10mm
6 Dozen (72)
$27.99
N/A
N/A
$27.99 UF
N/A
---