Swarovski Square - Art. 2400 - Flat Back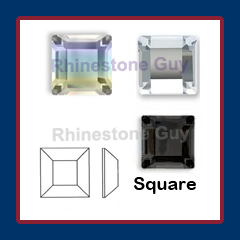 Swarovski 2400 squares have a flat top with facets on the edges. They feature a silver foil back for extra reflection, except for the jet square that is unfoiled. Add geometric shapes to your creations. Rhinestone shapes are great for added design, style and sparkle.
The squares come in graduating sizes. 2.2mm - similar to ss7 crystal; 3mm - similar in size to a 12ss rhinestone, 4mm - similar in size to a 16ss rhinestone and 6mm - similar to a 30 ss rhinestone. The are sold in various increments as well as in factory sealed packages (discounted).
These square shapes are also available in Crystal & Crystal AB from Czech Preciosa for a less expensive option, with the same amount of sparkle.
They are also available in hot fix format: Hot Fix Swarovski 2400 square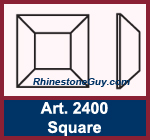 Brand: Swarovski, Austria
Name: Square Flat Back
Article #: 2400


NEW!

Mini Squares 2.2x2.2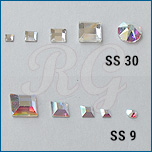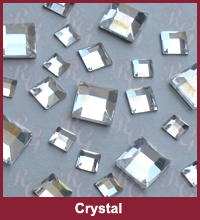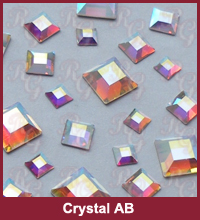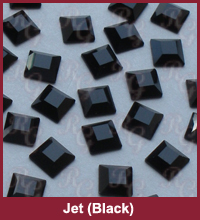 Standard Colors


Effects




Availability Codes: AU=aurum; GS=golden shadow; LCH=light chrome; RG=rose gold
---
Swarovski Art. 2400 Flat Back Square Stones are sold as follows:

1 Dozen = 12 pieces; 1/2 Gross = 72 pieces; Gross = 144 pieces; UF = Unfoiled


Bulk Prices (discounted):

Quantities as noted
Size
Quantity
Crystal
Crystal AB
Standard Colors
Jet
Effects:
2.2x2.2mm
1/2 Gross (72)
$6.29
$8.59
N/A
N/A
$8.59 AU only
2.2x2.2mm
1 Gross (144)
$11.59
$15.79
N/A
N/A
$15.79 AU only
3x3mm
1 Dozen (12)
$2.09
$2.79
$2.29
$2.09 UF
$2.79 GS,LCH,RG
3x3mm
1/2 Gross (72)
$6.49
$9.09
$7.89
$6.49 UF
$9.09 GS,LCH,RG
3x3mm
1 Gross (144)
$11.99
$16.79
$14.39
$11.99 UF
$16.79 GS,LCH,RG
4x4mm
1 Dozen (12)
$2.79
$3.19
$2.99
$2.79 UF
$3.19 GS
4x4mm
1/2 Gross (72)
$8.99
$12.59
$10.69
$8.99 UF
$12.59 GS
4x4mm
1 Gross (144)
$16.69
$23.29
$19.99
$16.69 UF
$23.29 GS
6x6mm
1 Dozen (12)
$3.19
$3.99
$3.49
$3.19 UF
N/A
6x6mm
1/2 Gross (72)
$11.69
$16.19
$13.99
$11.69 UF
N/A
6x6mm
1 Gross (144)
$19.29
$26.89
$23.09
$19.29 UF
N/A

Factory Packages, Wholesale (Bulk) Discounted Prices

2.2x2.2mm
10 Gross (1,440)
$94.79
$130.29
N/A
N/A
$130.29 Aurum
3x3mm
10 Gross (1,440)
$98.59
$137.49
$118.09
$98.59 UF
$137.49 GS, LCH, RG
4x4mm
5 Gross (720)
$68.69
$95.99
$82.19
$98.59 UF
$95.99 GS
6x6mm
1 Gross (144)
$19.29
$26.89
$23.09
$19.29 UF
N/A
---