Swarovski Art. 2364x - Art. 2365y Paisley Flat Back Crystals
Swarovski Paisley Shapes have multitude of facets. Designed to create intriguing patterns, they are available in two directions X (art 2364) and Y (art 2365). They can be gret for creating patterns with stones and other shapes. The small paisleys will be awesome for nail art. Specifically designed for designs that require left and right, such as shoes, earrings, and so on.
They are available in Crystal and Crystal AB in three graduating sizes.
Additional selected colors are available by special order, minimum quantities (factory package) may apply. Standard Colors: Jet, Majestic Blue & Scarlet Effect Colors: Golden Shadow, Silver Night & Silver Shade
We sell them in equal parts, meanning a set of left and right shapes.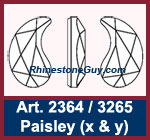 Brand: Swarovski, Austria
Name: Paisley X & Y- Flat Back
Article #: 2364 & 2365
Available Sizes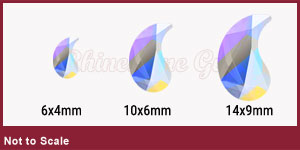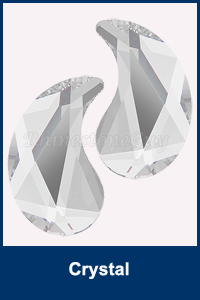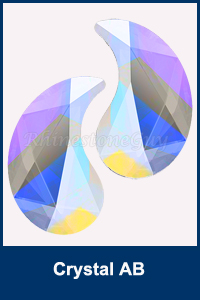 Swarovski Paisley Shapes are offered with equal stones from each style (2364x) and (2365y)
1 Dozen = 12 pieces -- You will receive 6 pieces, art 2364-x; and 6 pieces art 2365-y.
-- 6x4mm - discounted - 144 pieces of each style to a total of 288 pieces.
-- 10x6mm - discounted - 72 pieces of each style to a total of 144 pieces.
-- 14x9mm - discounted - 36 pieces of each style to a total of 72 pieces.
Swarovski Art. 2364x & 2365y Flat Back Paisley Shapes are sold as follows:

1 Dozen = 12 pieces; 1/2 Gross = 72 pieces; Gross = 144 pieces;


Bulk Prices (discounted):

Factory sealed Package ~ Quantities as noted
Size
Quantity
Crystal
Crystal AB
6x4mm
1 Dozen (12)
$4.79
$5.39
10x6mm
1 Dozen (12)
$11.79
$13.29
14x9mm
1 Dozen (12)
$19.89
$22.39

Factory Package ~ Discounted Prices

6mm
24 Dozen (288)
$95.09
$107.29
10mm
12 Dozen (144)
$115.89
$131.09
14mm

6 Dozen (72)

$98.29
$110.49
---