Swarovski Art. 2080/4 Hot Fix Pearl Cabochons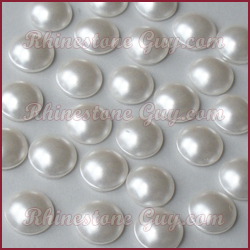 Swarovski 2080/4 Hot Fix faux pearl flat back cabochons are domed, smooth with a pearly finish. The pearls can be hot fixed with either a heat press or hand held hot fix tool. While they are hot fix, they can also be glued.
We stock the Crystal Nacre and Crystal White (natural pearl look) pearls.
Swarovski makes additional hot fix pearls in a variety of colors. We can get them for you in any color you choose by special order. You will have to purchase the full swarovski package.
Pearls are available in graduating sizes 10ss, a very popular size among nail professionals, 16ss (4mm) and 34ss (7mm)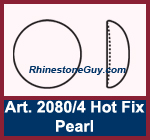 Brand: Swarovski, Austria
Name: Pearl Hot Fix
Article #: 2080/4
Color: Crystal Nacre or Crystal White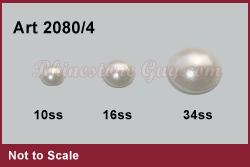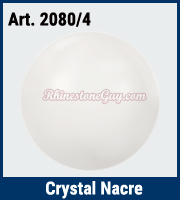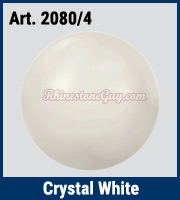 Swarovski Art. 2080/4 Hot Fix Pearl Cabochons are sold as follows:

1 Dozen = 12 pieces; 1/2 Gross = 72 pieces; Gross = 144 pieces;


Bulk Prices (discounted):

Factory sealed Package ~ Quantities as noted

| Size | Quantity | Crystal Nacre | Crystal White |
| --- | --- | --- | --- |
| SS10 - 3mm | 1/2 Gross (72) | $3.09 | $3.09 |
| SS10 - 3mm | 1 Gross (144) | $5.49 | $5.49 |
| SS16 - 4mm | 1/2 Gross (72) | $4.09 | $4.09 |
| SS16 - 4mm | 1 Gross (144) | $7.59 | $7.59 |
| SS34 - 7mm | 1/2 Gross (72) | $12.99 | $12.99 |
| SS34 - 7mm | 1 Gross (144) | $21.09 | $21.09 |
| Factory Package ~ Discounted Prices | | | |
| SS10 - 3mm | 10 Gross (1,440) | $45.19 | $45.19 |
| SS16 - 4mm | 10 Gross (1,440) | $61.99 | $61.99 |
| SS34 - 7mm | 1 Gross (144) | $21.09 | $21.09 |
---