Swarovski Round Pointed Back Rhinestones - Art. 1028 or XIRIUS 1088
Swarovski Crystals pointed back rhinestones have depth and provide fabulous refraction and Clarity. These stones should be set into metal setting with prongs or into cast settings with pre drilled cavities (can be glued). All our pointed back are foiled, either silver or gold.
These pointed back rhinestones are primarily used for jewelry and accessories like sunglasses. However, some set them with tiffany sets into fabric (not easy). In recent trends they are also used in nail art. Swarovski created a few styles of point back, the most common is the 1028 and recently and coming into the market are the latest Xirius 1088
Pointed back round chatons are made in graduating sizes from PP0 up to SS55 See Size Chart for exact mm.
WE DO NOT SELL SINGLE COUNT POINT BACK RHINESTONES, Color or Size Assortments and any quantities of less than 1 GROSS (144 STONES). Small stones are subject to minimum purchase - No Exceptions. If you need a few stones to repair jewelry, sunglasses, etc... - find a source that sells individual stones.
We carry stock Crystal and Crystal AB in selected popular sizes. Everything else must be purchased by Special Order, call for pricing and availability.

Brand: Swarovski, Austria
Styles: 1028 or 1088 Xirius Rose
Diameter: Varies
Size: pp0 to 55ss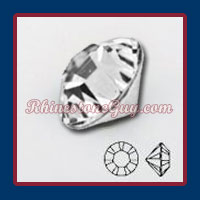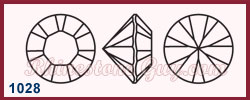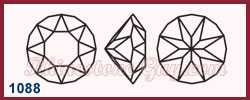 ---
In Stock - Round Pointed Back Crystal & Crystal AB;
All other sizes and or colors are available by special order, full factory packages only,

call fo price and availability

.1 Gross = 144 pieces, by weight, Bulk Package = Factory Package - Discounted


| Stone Size | Min. Qty | Crystal | Crystal AB | Bulk Package | Crystal | Crystal AB |
| --- | --- | --- | --- | --- | --- | --- |
| PP 5 1.2mm | 2 Gross | $4.39 | $6.09 | 10 Gross (1,440) | $32.89 | $45.89 |
| PP 8 - 1.45mm | 2 Gross | $4.29 | $5.89 | 10 Gross (1,440) | $32.19 | $44.99 |
| PP 11 - 1.7mm | 2 Gross | $4.49 | $6.29 | 10 Gross (1,440) | $33.79 | 47.19 |
| PP 12-1.8mm-5ss | 2 Gross | $4.59 | $6.39 | 10 Gross (1,440) | $34.49 | $48.29 |
| PP 14 - 2mm - 6ss | 2 Gross | $4.89 | $6.89 | 10 Gross (1,440) | $37.59 | $51.69 |
| PP 16 - 2.2mm - 7ss | 2 Gross | $5.59 | $7.09 | 10 Gross (1,440) | $38.69 | $53.09 |
| PP18 - 2.4mm - 8ss | 2 Gross | $5.69 | $7.29 | 10 Gross (1,440) | $39.79 | $54.89 |
| PP 21 - 2.7mm - 10ss | 2 Gross | $5.49 | $7.69 | 10 Gross (1,440) | $41.59 | $57.49 |
| PP 24 - 3.1mm - 12ss | 2 Gross | $5.89 | $7.99 | 10 Gross (1,440) | $43.69 | $60.29 |
| PP 30 - 3.7mm | 2 Gross | $7.49 | N/A | 10 Gross (1,440) | $56.69 | N/A |
| PP 32 - 4mm -16ss | 2 Gross | $8.19 | $11.29 | 10 Gross (1,440) | $61.99 | $85.59 |
| 19ss - 4.5mm | 2 Gross | $9.49 | $13.09 | 10 Gross (1,440) | $72.09 | $99.59 |
| 20ss - 4.7mm | 2 Gross | $10.19 | N/A | 10 Gross (1,440) | $38.99 | N/A |
| 24ss - 5.3mm | 2 Gross | $13.69 | $18.79 | 5 Gross (720) | $51.59 | $71.59 |
| 29ss - 6.2mm | 2 Gross | $19.49 | $26.99 | 2 Gross (288) | $29.79 | $41.19 |
| 34ss - 7.1mm | 2 Gross | $21.39 | $29.59 | 1 Gross (144) | $21.39 | $29.59 |
| 39ss - 8.25mm | 2 Gross | $30.69 | $42.29 | 1 Gross (144) | $30.69 | $42.29 |
---