Tools for Mounting Rhinestones, and Pronged Nailheads
We have seen a decline in the availability of mounting tool on both the hobby level and the commercial level.
The following mounting presses are no longer available: the Brisk Setter*, RG Pro Setter and the Commercial Foot Press. Unfortunately they are not being manufactured at this time. *There are still some Brisk Setters on the market. The brisk setters will do tiffany sets out of the box. However, the popular size adaptors for rims and nailheads settings are not available.
We do NOT ship mounting tools outside the U.S
There are also a few grommet machines that have been modified to do other mounting or setting. We do not carry those. Our dies will not fit grommet machines. The dies we carry are NOT Threaded and have 3/8" shaft.
Table Top Professional Setter/Punch, Hand Operated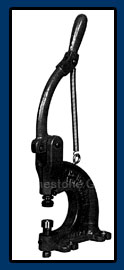 Quality cast construction
It can bolt to Your table top or work surface
Weight 50 lbs.
The Table Top press comes WITHOUT DIES. So appropriate dies need to be purchased.
Commercial Grade and Use.
$209.99 Delivered
---
Dies for Table Top Professional Setter/Punch
Note: If you own a foot press (not a grommet press) the dies would fit. 3/8" shank non threaded.
.
Tiffany Mounts - 30SS, or 40SS....$ 129.99 each, delivered

Rim Sets: 16SS, 20SS, 30SS, or 40SS ……………… $ 129.99 each, delivered

Pearl Nailhead 16ss...............$129.99 delivered
---
BeDazzler
The 'BeDazzler' hobbyist Rhinestone and Nail Head Setter is perfect for personal stone and nail head setting.... Low cost, easy to use. Will set rhinestones using Tiffany mounts sizes 20ss and 34SS, nailheads 20SS. 30SS, 40SS, and some rim sets.
Please note: the Bedazzler tool is NOT SUITABLE for leather or multi layers of heavy fabric. This is a light weight unit suitable for hobby use only. PLEASE NOTE: BeDazzler now come in a plain cardboard box, include instructions and designs. They are packed in a brown box.
$19.99 Free Shipping
---