RG Studio Rivoli Sew On
SUMMER CLEARANCE SALE - 30% OFF,
while supply lasts!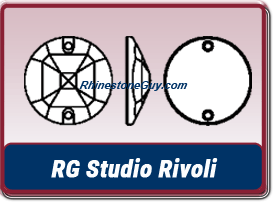 RG Studio Rivoli Sew On Jewels are made in Austria, home of the best crystal in the world. These uniquely cuts jewels provide and excellent flash and performance at a great price. RG Studio Sew On Rivolis are faceted flat back jewels with 2 holes drilled on each side for sewing. They feature foil on the back of the stones (except the Jet) for extra reflection. Sewing jewels are great for added style and sparkle. They are available in two sizes 12x7mm and 18x13mm in Crystal, Crystal AB, Golden Shadow, Jet, & Hematite.
The Sew On Jewels feature:
High Brilliance
Precision and Differentiated Cut
Superior Quality
Reliable color consistency
Lead Free
Advance foiling
Made in Austria
As an alternative, we have sew on Rivolis Art 3200 by Swarovskiand RG Premium sew on Rivolis.


Prices
DOZEN

PRICE

-

(12 Pieces / Dozen)

BULK

PRICE

-

(by the package as noted)

RG Studio Rivoli Sew On:

1 Dozen = 12 pieces = DZ
12 Dozen = 144 pieces
8 Dozen = 96 pieces
6 Dozen = 72 pieces


[we do not sell individual pieces]
By Dozen

10mm

12mm

14mm

Bulk

10mm

-12 Dz

12mm -8 Dz

14mm

-6 Dz
Crystal
$4.49
$6.19
$8.99
Crystal
$47.29
$43.69
$48.39
Crystal AB
$5.79
n/a
$11.79
Crystal AB
$61.99
n/a
$63.39
Jet
$4.49
$6.19
$8.99
Jet
$47.29
$43.69
$48.39
Golden Shadow
$5.79
$7.99
$11.79
Golden Shadow
$61.99
$57.19
$63.39
Hematite
$5.39
$7.49
$11.09
Hematite
$58.19
$53.79
$59.49
Other RG Studio Sew On Jewels
(click to visit)