RG Premium Luxury Rivoli ~ Flat Back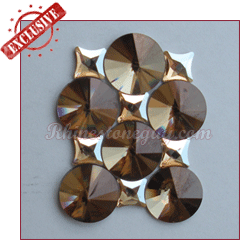 Rhinestone Guy's (RG) Premium Rivolis have a unique shape. They are faceted all the way around and come to a point at the center of the stone, giving it vertical facets from the tip to the bottom. They have an amazing shine. These are great stones for earrings and necklaces and unique designs.
The Rivoli rhinestone shape features foil on the back of the stone for extra reflection and sparkle.
The RG Premium rivolis are available in 4 great sizes ranging from 10mm to 18mm (almost 3/4 inch). They are sold by the Dozen and in bulk (discounted). They are available in Crystal, Crystal AB, Dark Honey and Jet.
These are a great alternative to Swarovski 2006 rivolis, or Czech Preciosa Rivolis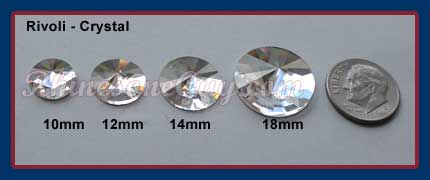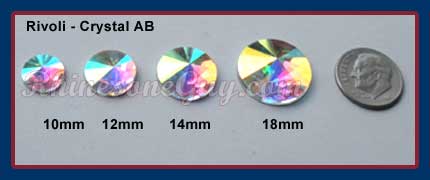 ---

Effects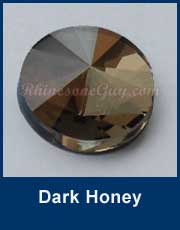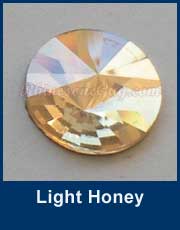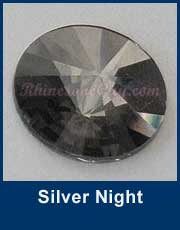 RG Luxury Rivoli Flat Back Squares Crystals are sold as follows:

1 Dozen = 12 pieces;


Bulk Prices (discounted)- quantities as noted:

1 Gross = 12 dozen = 144 pieces

| Size | Quantity | Crystal | Crystal AB | Jet | Effects |
| --- | --- | --- | --- | --- | --- |
| 10mm | 1 Dozen (12) | $1.89 | $2.89 | $1.89 | $2.89 |
| 12mm | 1 Dozen (12) | $2.39 | $3.49 | $2.39 | $3.49 |
| 14mm | 1 Dozen (12) | $2.99 | $4.09 | $2.99 | $4.09 |
| 18mm | 1 Dozen (12) | $4.99 | $6.49 | $4.99 | $6.49 |
| Bulk Discounted Prices | | | | | |
| 10mm | 12 Dozen (144) | $14.99 | $22.49 | $14.99 | $14.99 |
| 12mm | 12 Dozen (144) | $18.79 | $27.59 | $18.79 | $27.59 |
| 14mm | 12 Dozen (144) | $22.99 | $32.79 | $22.99 | $32.79 |
| 18mm | 12 Dozen (144) | $34.99 | $51.79 | $34.99 | $51.79 |
Other RG Luxury Flat Back Crystal Shapes (click to visit)
---