Rhinestone Guy Featuring: Swarovski Ombré Effects
The Ombré Effect describes a color graduation of tones from light to dark, crystal to jet as an example. Think of changing tones of color on similar color fabric. It has become a major trend in apparel, nail, dance and costume design. Swarovski rhinestone colors can create a picture perfect Ombré Effect. The effect will add a WOW factor to any design.
Ombré effects can be made differently. You can always create a free form faux ombré effect by picking a main color that is similar to the fabric and mixing a few other colors from the same color family in between. It will create depth. Using rhinestones in changing, graduating sizes, can also create a unique flow of colors.
Black is never out of style and Blue is a great black alternative... here are examples:


Our Swarovski online color chart is organized by graduating colors. You can use it to create your Ombré effects. If you need assistance in putting together an effect, call us.... We can help. below are some ideas to get your started.
---
Whether your dress or costume design needs a hot fiery burst, a frosty blue touch, or a feminine pink flare, you can create a seamless color transition from light to dark with Swarovski crystal colors.
---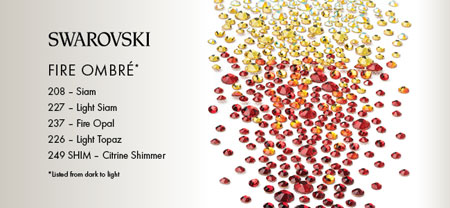 The Fire Ombré
Colors: Siam, Light Siam, Fire Opal, Light Topaz and Citrine Shimmer.





---
The Frosted Ombré
Colors: Crystal Royal Blue, Light Sapphire, Light Sapphire Shimmer, Crystal Shimmer and Crystal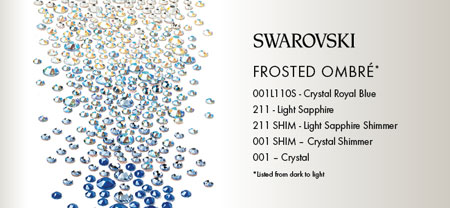 ---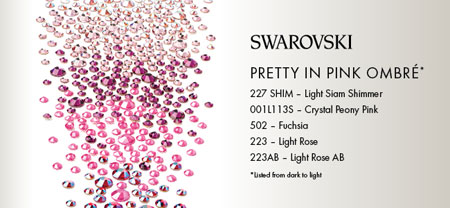 The Pretty in Pink Ombré
Colors: Light Siam Shimmer, Crystal Peony Pink, Fuchsia, Light Rose and Light Rose AB





---
Find your Swarovski crystals at Rhinestone Guy
Stand out from the crowd. Swarovski inspires the world of fashion, art and design with its leading innovations, design and trends' expertise. Swarovski rhinestones and crystal components are made of ""advanced crystal" and are lead free*, compliant with international standards.
*Crystal Glass and all other materials containing 0.009% lead or less