Czech Preciosa Rhinestones
3ss through 10 SS - Flat Back
VIVA 12
Czech Preciosa SS5 through SS10, Flat Back Rhinestones are available in the VIVA 12 Rhinestone Style. SS3 and SS4, are the Maxima cut style. These Preciosa Flat Back Stones are easily applied to a wide range of materials. These small stone are excellent for nail art
The MC Chaton Rose VIVA 12® is known for its brilliance, sparkle and glitter. These flat back rhinestones are designed for application by gluing and have a silver foiling that protects against damage and intensifies their brilliance.
It is Rhinestone Guy's choice for Costuming and any garment meant to be seen at distances farther than 4 feet. The rhinestone colors are excellent, and the AB versions are terrific. Do not underestimate the beauty of these rhinestones ...excellent value and excellent choice of stones.
3ss and 4ss are ONLY sold in full factory packages. All other sizes have a 1 Gross minimum purchase or you can save by purchasing a 10 Gross factory sealed package.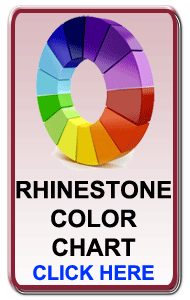 Brand: Czech Preciosa
Style: VIVA 12 (ss5 to ss10)
Style: Maxima (ss3 and ss4)
Diameter: 1.8mm to 2.8mm
Rhinestone Size: SS3 to SS10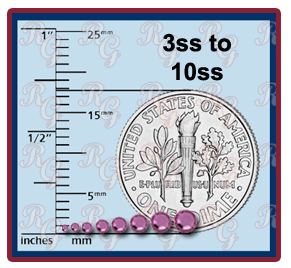 Prices
GROSS

PRICE

-

(144 pieces / gross)

Czech Preciosa VIVA 12 Gross Prices

1 Gross = 144 rhinestones; Measured by weight, Price Per Gross

Size

3ss(1.4 mm)

4ss(1.6 mm)

5ss(1.8 mm)

6ss(2 mm)

7ss(2.2 mm)

8ss(2.3 mm)

9ss(2.6 mm)

10SS(2.8 mm)

Crystal
full pk only
full pk only
$2.79
$2.79
$2.79
$2.79
$2.79
$2.79

Crystal AB
full pk only
full pk only
$3.29
$3.29
$3.29
$3.29
$3.29
$3.29

Color
N/A
N/A
N/A
N/A
N/A
N/A
N/A
$3.19

Color AB
N/A
N/A
N/A
N/A
N/A
N/A
N/A
$3.69

Aurum
N/A
N/A
N/A
N/A
N/A
N/A
N/A
$4.19
WHOLESALE -

BULK PRICE

- (

By the package

)

Czech Preciosa VIVA 12 Bulk Prices- best Value - Save

Factory Sealed Package - 10 Gross Package (1,440 rhinestones)

Size

3ss to 4ss-10 G

5ss to 9ss-10 G

10ss-10 Gross

Crystal
$30.59
$21.99
$21.99

Crystal AB
$36.09
$24.79
$24.79
---
Additional Sizes
Or, See Consolidated Price List