Czech Preciosa Rhinestones
40ss - Flat Back
VIVA 12
Czech Preciosa 40ss Flat Back Rhinestones are available in the VIVA 12 Rhinestone Style. These Preciosa Flat Back Stones are easily applied to a wide range of materials. The are not made in all colors, see the listing below of what we have in stock.
The MC Chaton Rose VIVA 12® is known for its brilliance, sparkle and glitter. These flat back rhinestones are designed for application by gluing and have a silver foiling that protects against damage and intensifies their brilliance.
It is Rhinestone Guy's choice for Costuming and any garment meant to be seen at distances farther than 4 feet. The rhinestone colors are excellent, and the AB versions are terrific. Do not underestimate the beauty of these rhinestones ...excellent value and excellent choice of stones.
They are sold in 1/2 Gross or you can save by purchasing a 1 Gross factory sealed package.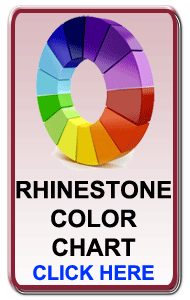 Brand: Czech Preciosa
Style: VIVA 12
Diameter: approx. 8.6 mm
Rhinestone Size: 40ss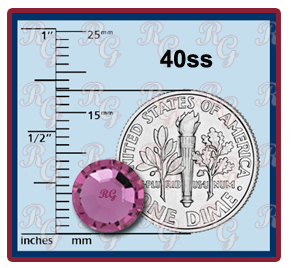 Czech Preciosa 40Ss rhinestones are available in the following colors:
Amethyst
Amethyst AB
Aquamarine
Aqua Bohemica
Aurum
Black Diamond
Blue Zircon
Blue Zircon AB
Capri Blue

Capri Gold

Citrine
Citrine AB
Emerald
Emerald AB
Fuchsia
Fuchsia AB
Green Tourmaline
Honey**
Hematite**
Hyacinth
Jet
Jet AB

Jonquil
Jonquil AB
Labrador**
Light Amethyst
Ligt Col. Topaz
Light Col. Topaz AB
Lt. Rose
Light Rose AB
Light Sapphire
Light Siam
Light Siam AB
Olivine

Peridot
Peridot AB
Rose
Sapphire
Sapphire AB
Siam
Smoke Topaz
Sun AB
Tanzatine
Topaz
Topaz AB
** Honey and Labrador, is priced like Crystal AB; Hematite is priced like Color AB
---
Prices
GROSS

PRICE

-

(144 pieces / gross)

Czech Preciosa VIVA 12 Gross Prices

1 Gross = 144 rhinestones; Measured by weight, Price Per Gross


*

Limited colors see table below

Gross
1/2 GROSS

PRICE

-

(72 pieces = 1/2 gross)

Czech Preciosa Viva 12 1/2 Gross Prices

1/2 Gross = 72 rhinestones; Measured by weight

* Limited colors see table below. We do not sell smaller size stones by 1/2 Gross quantities.
DOZEN

PRICE

-

(12 pieces = 1 Dozen)

Czech Preciosa Viva 12 Dozen Prices

1 DOZEN = 12 rhinestones;
---
Additional Sizes
Or, See Consolidated Price List