Czech Preciosa Crystal - Close out & Special Deals

Here you will find odds and ends, vintage and close out Czech Preciosa brand products. From rhinestones, VIVA 12 and vintage, to glass jewels and cabochon, trim and mounted sew on jewels.
---
Rhinestones -
VIVA 12

(new) and Vintage sale.
We have a great selection of VIVA 12, odds and ends, and vintage 8 Facets, flatback and hotfix crystals, at an unbelievable prices. Looking for some older colors? Here you will find discontinued colors. Our color chart has the colors we currently stock.

---
Sew On Jewels Colors
Navettes and Pear colors, Sew On stones, limited sizes, quantities, on clearance
Color Mesh Banding
Czech Preciosa Pointed Back round crystals in Metal Mesh, 4 Rows by 1 Meter (39") increments. $17.99 to $23.99 per meter.
---
---
Flat Back Glass Matrix and Glass Cabochons
Updated, Odd Sizes, Odd Color Lots, Czech Smooth Medium Dome Glass Cabochons at great discounted prices!
---
Flat Back Jewels
Updated, Odd Sizes, Odd Color Lots, Czech Rauten Jewels and Rose Cut Jewels at great discounted prices!
---
Chaton Montees - Sew On - Vintage - Czech Pointed Back Stones in Silver Setting
Click here for Swarovski mounted stones on Sale.


Price Per Dozen. 1 Dozen = 12 pieces
Navette 45

10x5mm

15x4mm

15x7mm

Pear

10x6mm
Crystal
N/A
N/A
$8.99

SALE

Crystal
$4.99

SALE
Crystal AB
$5.99

SALE

$7.99

SALE

N/A
Crystal AB
$5.59

SALE
---
Rose Montees - Vintage
Rose montees are flat back stones that are set in a setting with the ability to thread them on the underside. These vintage rose montees are all set in Silver.
The square rose montees are a rare limited production. They are 6mm, the size of a 30ss rhinestone. Can be matched with 30ss Rose Montees from here or Swarovski.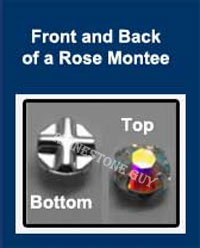 1 Gross = 144 rhinestones; Measured by weight, Price Per Gross
SQR = SQUARE
MC-R = Machine Cut Round Rhinestones; EX-R=Extra Grade Round Rhinestones
Size

16ss-MC

-R

20ss-MC

-R

3 or 4mm Sqr

16ss-EX-R
Crystal
$4.99
N/A
$9.99
$2.99
Crystal AB
$5.99
N/A
N/A
N/A