The Ball Gown Manual©
2011-12 Edition, by Phillip M. Brandt
---
The Rhinestone Guy's ball gown manual is written for all levels, from the beginner to the professional. Following simple suggestions, anyone who has patience, can produce a quality ball gown or a latin dress suitable for any level of dance.
The ball gown manual covers the following areas:
How to make Competition Ball Gowns for Ball Room Dancing




How to make Latin Dresses for Ball Room Competition and Dance




How to Produce Evening and Bridal Wear to alter for Ball Room Dance




Skirts and Leotards




Horse Show Clothing




Aimed and all levels of sewing skill...from beginner to professional




How to set up a sewing studio, equipment you will need, how much to spend




Problem fabrics and how to conquer them




How to produce your own patterns for dance from commercial patterns, such as Vogue and Simplicity




Secrets of skirt production




How to produce a 'Body Double' using a dress form, and more...
All the tricks of the trade given away in this 155+ page manual
... 35 years of experience boiled down into one book.
THE SALE OF THE BALL GOWN MANUAL HAS BEEN DISCONTINUED
---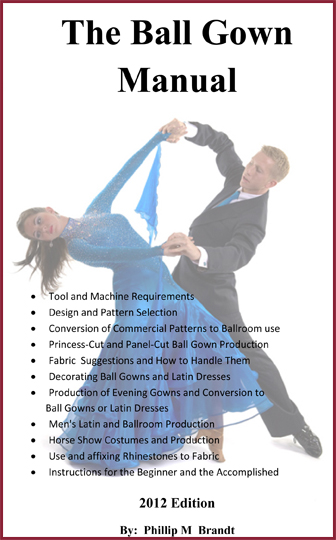 The Ball Gown Manual is NOT available in electronic format