Swarovski Concise Rhinestones
Art. 2034
48 ss - Flat Back
Swarovski 2034 Concise Rhinestones is a specialty cut flat back rhinestone backed with platinum foiling for extra brilliance and protection, and for easy application to a variety of materials using standard glues.
In comparison to the Swarovski Xirius and Xilion rose rhinestones they have a simpler cut, with a great larger table top, giving them a "mirror" like spakle. They are also lighter and are lead free.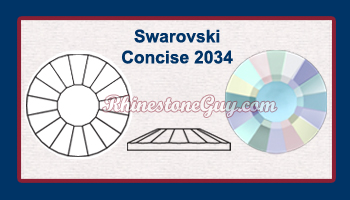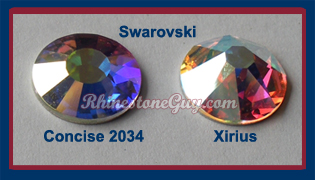 Swarovski 48ss concise rhinestones are available in selected colors as shown below. The concise rhinestones feature a uniqe large tabel top and facets in a shallower rhinestone. It creates an excellent sparkle. They are foiled back and can be glued to a variety of materials
We have additional vintage 48ss Swarovski Rhinestones in various colors sold by the Dozen. Quantities are limited,
They are sold by the Dozen or you can save by purchasing a 8 Dozen factory sealed package.

Brand: Swarovski, Austria
Styles: 2034 Concise Cut
Diameter: approx. 11mm
Rhinestone Size: 48ss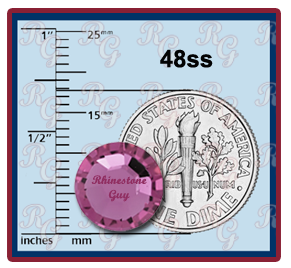 The following are the Concise Rhinestone Colors available*:







*There are two patina rhinestone colors available, Crystal Black and Crystal Rose patina, we do not carry them in stock, but we can special order those for you.
1 Dozen = 12 pieces
Bulk Price Discounted - 8 Dozen (dz)box - Factory Sealed Package(96 rhinestones).
Golden Shadow and Light Chrome are Effect Colors.
2034 - 1 Dz
48SS(11mm)
2034-BULK
48SS(11mm)
Crystal
$6.69/Dozen
Crystal
$40.69-8 Dz
Crystal AB
$9.49/Dozen
Crystal AB
$57.69-8 Dz
Std Colors
$8.09/Dozen
Std Colors
$49.19-8 Dz
Effect Colors
$9.49/Dozen
Effect Colors
$57.69-8 Dz
Colors AB
$10.09/Doz
Colors AB
$62.09-8 Dz