Swarovski Rose Montees
Swarovski rose montees are a great way to decorate clothing with a Tiffany Set look without piercing fabric via tiffany prong settings.
Rhinestone rose montees create an elegant and polished look. These sew on jewels are an excellent choice for creating wedding gowns, belts, show costumes, and evening wear.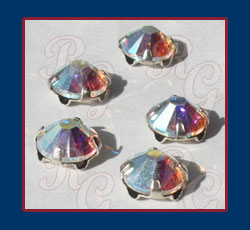 Rose montees are Flat Back rhinestones that are pronged set in a silver metal carrier. The picture to the left represent the bottom and side views of the Rose Montees. Rhinestone Guy recommends 30ss Rose Montees. Because the rhinestone is larger, once it is pronged, it stands out better. 30SS is approx. 1/4".
We make in-house the Swarovski 30ss Rose montees... As a result we are the ONLY ones that can offer them in any available color including the AB colors and the turn around is quick!
No large minimum orders.
We stock Crystal and Crystal AB. Other Colors in different sizes that are not in stock are special order with minimum quantities purchase and turn around time for a 10 to 14 days.
Swarovski Rose Montees are sold as follows:
16ss and 20ss - minimum purchase 1 gross
30ss to 40ss - minimum purchase 1/2 gross
48ss - minimum purchase 1 Dozen

Select the tabs below for various quantities and pricing options:
Swarovski Rose Montees - Gross Prices
1 Gross = 144 Rose Montees;
* Special Order - 10 Gross Minimum, lead time required.
*SS20 AB in Gold Setting ONLY
Size

16SS(4mm)

20SS(4.7mm)

30SS(6.4mm)

34SS(7.1mm)

40ss(8.6mm)

48SS(11mm)
Crystal
$16.69
$24.09
$38.79
$63.69
$87.79
$178.49
Crystal AB
$23.19
$29.59

**

$44.39
N/A
N/A
$199.89
Color
$19.39

*

$28.59

*

$40.59
N/A
N/A
N/A
Color AB
$24.09

*

$32.69

*

$48.99
N/A
N/A
N/A
Swarovski Rose Montees 1/2 Gross Prices
1/2 Gross = 72 rose montees;
Size

30SS(6.4mm)

34SS(7.1mm)

40ss(8.6mm)

48SS(11mm)

1 Dozen

48SS(11mm)

-Dz
Crystal

1/2g

$23.49
$38.29
$52.69
$107.09
Crystal

DZ

$17.89
Crystal AB

1/2g

$27.09
N/A
N/A
$126.69

Crystal AB

DZ

$21.09
Color

1/2g

$24.49
N/A
N/A
N/A
Color
N/A
Color AB

1/2g

$29.39
N/A
N/A
N/A
Color AB
N/A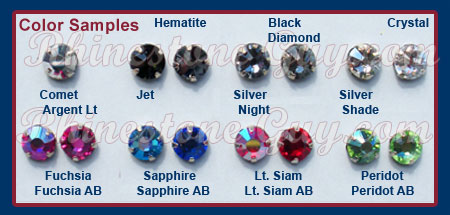 Need different Swarovski Sew On
(click to visit)