Swarovski Xirius 2088 and 2078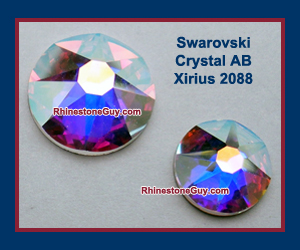 Swarovski, the leading rhinestone manufacturer and standard setter introduces its latest rhinestone style. Per Swarovski "The Xirius Crystal Collection takes crystal one step closer to the diamond...".  The rhinestone style is called Xirius Chaton Roses, style number 2088 for the Flat Back rhinestones and 2078 for the Hot Fix stones. 
Swarovski started the changeover to this style beginning with the Crystal and Crystal AB and standard colors, effect and AB Colors will follow  Flat backs will be available ahead of the Hot Fix stones. In the meantime, the current Xilion Chaton Roses, 2058, and 2038 are available and ready to ship.

The cut of the rhinestones has changed and according to Swarovski "the X-Cut technology delivers premium gemstone-like cuts.... creating extraordinary sparkle and shine".  Swarovski considers this latest cut as its most brilliant crystal stones with enhanced foiling (for flat backs), versatile and flexible hot fix glue, to environmental resistance. 
Below you can see the difference between these two styles of rhinestones.
The 2088 Xirius Rose Cut.

The 2058 Xilion Rose Cut.

The Xirius is made according to ADVANCED CRYSTAL standards creating a patented lead free* (*Crystal Glass and all other materials containing 0.009% lead or less.) rhinestone with the Swarovski sparkle and variety.
Rhinestone sizes for this line start at 12ss and go up to 48ss for Crystal and Crystal AB.  All other colors are available from 12ss up to 34ss.  If you need smaller size rhinestones that 2028 and 2058 are still available.
A note regarding AB Colors and some effect rhinestones:
Many 2028/2058 AB colors will not be available in the new style.  Furthermore they are phasing out. If you have a project that utilizes these discontinued, out of program, rhinestone colors, please be sure to get sufficient amount of stones to cover your project.
Rhinestone Availability & Pricing for these Rhinestones


We will be updating the Swarovski Color Chart to reflect the available color further noting the discontinued Effect and AB colors.


Find your Swarovski crystals at Rhinestone Guy
Stand out from the crowd. Swarovski inspires the world of fashion, art and design with its leading innovations, design and trends' expertise. Swarovski rhinestones and crystal components are made of "advanced crystal" and are lead free*, compliant with international standards.
*Crystal Glass and all other materials containing 0.0009% lead or less