Swarovski Pointed Back -Chatons - Sale
Great Deals, Limited Supply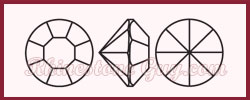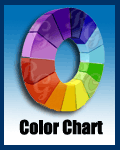 Great prices on Swarovski vintage stock of pointed back rhinestones in various sizes and colors. Older articles, 1100, 1012 and 1028. From PP4 up to SS34. Limited quantities, while supply lasts. This is a great opportunity for those who repair jewelry as the prices are unbelievable.
Point back rhinestones are measured from PP (Pearl Plate) very small to (SS) Stone Size. Their sizes are in a range. Size shown is the middle of the range. All our pointed back are foiled gold or silver.
Regular Pointed Back Stock is available for crystal, crystal AB.
Check the various tabs for sizes and availability, No size or color assortments.
- means NOT Available
We update the tables weekly.. so by the end of the week, some stones may be NO longer available.
Swarovski Point Backs- PP4 (1.1mm) to PP21 (2.7 mm)
1 Gross = 144 rhinestones; Measured by weight, Price Per Gross
There is a 2 Gross Minimum purchase on all items in this tab
Color

Amethyst

Siam

Color

Amethyst

Jonquil

Lt. Amethyst

Lt Col Topaz

Lt Sapphire

Lt Siam

Siam

Color

Amethyst

Aqua

Black Diamond

Blue Zircon

Fuchsia

Garnet

Jonquil

Lt Amethyst

Lt Col Topaz

Lt Rose

Lt Sapphire

Montana

Olivine

Peridot

Purple Velvet

Rose

Ruby

Sapphire

Siam

Smoke Topaz

Tanzanite

Topaz

Color

Crystal

Capri Blue

Fuchsia

Jet

Jonquil

Lt Amethyst

Lt Col Topaz

Lt Rose

Peridot

Purple Velvet

Rose

Siam

Smoke Topaz

Tanzanite

Topaz
-
-
-
pp9

-1.5mm

-
$2.99
-
-
-
-
$2.99
pp14

-2.0mm

$3.29
$3.29
-
-
-
$3.29
-
-
-
-
$3.29
-
$3.29
-
-
$3.29
-
-
-
-
-
-
pp19

-2.5mm

*
-
-
$3.89
-
$3.89
-
-
-
$3.89
-
$3.89
-
-
-
-
-
-
-
pp10

-1.65mm

-
-
$2.99
$2.99
-
-
-
pp15

-2.14mm

-
-
-
-
-
-
-
$3.59
-
-
$3.59
$3.59
-
-
-
-
-
-
-
-
$3.59
-
pp20

-2.6mm*

$3.89
-
$3.89
-
-
-
-
$3.89
-
-
-
-
-
-
$3.89
pp6

-1.3mm

-
$2.99
pp11

-1.7mm

-
-
$2.99
-
$2.99
$2.99
-
pp16

-2.2mm

-
-
-
-
-
-
-
-
-
-
-
-
-
$3.59
-
-
-
$3.59
-
-
-
-
pp21

-2.7mm*

-
-
-
-
-
-
-
-
-
-
$3.99
-
-
-
$3.99
pp7

-1.35mm

$2.99
-
pp12

-1.8mm

-
-
-
-
-
-
-
pp17

-2.3mm

-
$3.59
$3.59
-
-
-
-
-
-
-
-
-
-
-
-
$3.59
-
-
$3.59
-
-
-
-
-
-
pp13

-1.9mm

$3.29
-
-
-
-
$3.29
-
pp18

-2.4mm

$3.79
$3.79
$3.79
$3.79
$3.79
-
$3.79
-
$3.79
$3.79
$3.79
-
$3.79
$3.79
$3.79
-
-
$3.79
-
$3.79
$3.79
$3.79
Swarovski Point Backs- PP24 (3.1mm) to to SS34 (7.1mm)
1 Gross = 144 rhinestones; Measured by weight, Price Per Gross
Color

Blue Zircon

Capri Blue

Fuchsia

Jet

Jonquil

Lt Amethyst

Lt Col Topaz

Lt Rose

Purple Velvet

Rose

Sapphire

Siam

Smoke Topaz

Tanzanite

Topaz

Color

Amethyst

Aqua

Black Diamond

Blue Zircon

Capri Blue

Emerald

Fuschia

Garnet

Jet

Jonquil

Lt. Amethyst

Lt Col Topaz

Lt Rose

Lt Sapphire

Montana

Olivine

Rose

Ruby

Sapphire

Siam

Smoke Topaz

Topaz
pp24

-3.1mm

$3.99
$3.99
-
$3.99
$3.99
$3.99
-
-
-
$3.99
-
-
-
-
-
pp32

-4mm

-
-
-
$4.29
$4.29
$4.29
-
$4.29
$4.29
$4.29
$4.29
$4.29
$4.29
$4.29
$4.29
$4.29
$4.29
$4.29
$4.29
$4.29
$4.29
-
pp26

-3.3mm

-
-
-
-
-
-
$3.99
-
-
-
-
-
-
-
-
18SS

-4.2mm

-
-
-
-
-
-
-
-
-
-
-
-
-
$4.89
-
-
-
-
-
$3.99
-
-
pp28

-3.5mm

-
-
-
-
-
-
-
-
-
-
$3.99
$3.99
-
-
$3.99
19SS

-4.5mm

-
$4.89
-
$4.89
-
-
-
$4.89
-
$4.89
-
$4.89
$4.89
$4.89
$4.89
-
-
-
$4.89
$4.89
-
-
pp29

-3.6mm

-
-
-
-
-
-
-
$3.99
-
-
-
$3.99
-
-
-
20SS

-4.7mm

$4.99
$4.99
$4.99
-
$4.99
-
$4.99
-
$4.99
-
$4.99
-
-
-
-
-
-
-
$4.99
-
-
$4.99