Swarovski Oval Sew On - Fancy Stone in Setting (mounted)
Swarovski Oval Sew on in setting is a gorgeous cut and popular fancy stone sew on. Sewing mounted fancy stones create an expensive look, class, style and sparkle.
The sew on stone is made with pointed back (chatons) stones, fancy stones, in a silver carrier.
Strung as a necklace or bracelet it is just amazing. The mounted oval has Swarovski Fancy Stone Art. 4127, 4120 or 4128, depending on size and availability.
Certain sizes and select colors are available by special order and minimum purchases will apply.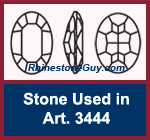 Brand: Swarovski, Austria
Stone Shape: Oval
Article #: 3444

Swarovski Mounted Ovals only available by special order, S/O as noted with minimum purchase quantities and an 8 to 10 weeks lead time.
Size

8x6mm

10x8mm

12x10mm

Smk Topaz

14x10mm*
Crystal
S/O - Call
S/O - Call
S/O - Call
Smk Topaz
$9.99

SALE
Crystal AB
$4.99

SALE

$9.69
$6.99

SALE

Other Swarovski Mounted Fancy Stones
(click on image to visit)