Swarovski Mini Rhinestone Shapes
Swarovski introducing the dainty new family of Mini Flat Backs: Baguettes (Art 2510) Squares (Art. 2400), Navette (Art. 2200) and Triangle (Art 2711). These tiny crystals are unique to the market brining sparkle to highly detailed designs that call for small size crystals. Textile user can use them to create sparkling optical effect of random allover placements.
For Nail Art they are great for creating intricate patterns and designs.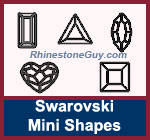 Brand: Swarovski, Austria
Name: Mini Rhinestone Shapes
Article #: 2200 (Navette), 2400 (Square), 2510 (Baguette) & 2711 (Triangle) & 2808 (Heart)





Note: Aurum - Squares ONLY, Golden Shadow - Baguettes ONLY
---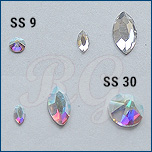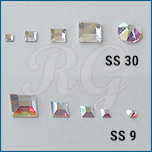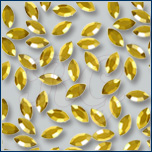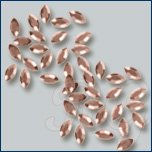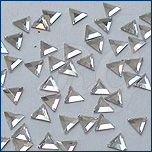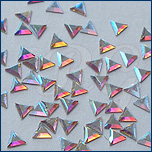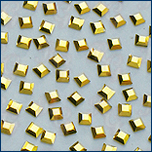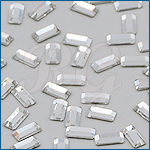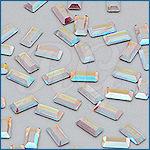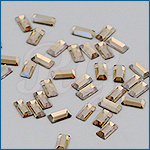 Swarovski Mini Shapes are sold by 1/2 Gross (72 pieces); by the Gross (144 pieces) or in Bulk (5 Gross = 720 pieces or 10 Gross = 1,440 pieces)- As Noted and discounted.
Larger size Baguette, Navettes, Squares & Triangles are available and many additional rhinestone shapes are available see links below.
New-Heart

3.6mm-1/2 Gr
3.6mm-1 Gr
3.6mm-5 G
Baguette
3.9x1.7-1/2 Gr
3.9x1.7mm-1 Gr
3.9x1.7mm-5 G
Navette
4x2mm-1/2 Gr
4x2mm-1 Gr
4x2mm-5 G
Square
2.2x2.2mm-1/2 Gr
2.2x2.2mm-1 Gr
2.2x2.2mm-10 G
Triangle
3.3mm-1/2 Gr
3.3mm-1 Gr
3.3mm-5 G
Crystal
$15.59
$23.29
$116.89
Crystal
$10.19
$18.89
$77.69
Crystal
$10.39
$18.79
$81.59
Crystal
$6.19
$11.39
$92.89
Crystal
$11.99
$22.19
$91.29
Crystal AB
N/A
N/A
N/A
Crystal AB
$12.59
$23.29
$95.99
Crystal AB
$12.59
$23.29
$95.79
Crystal AB
$8.39
$15.49
$127.69
Crystal AB
$14.69
$27.39
$112.59
N/A
N/A
N/A
Golden Shadow
$12.59
$23.29
$95.99
Aurum
$12.59
$23.29
$95.79
Aurum
$8.39
$15.49
$127.69
n/a
n/a
n/a
N/A
N/A
N/A
N/A
N/A
N/A
Rose Gold
$12.59
$23.29
$95.79
N/A
N/A
N/A
n/a
n/a
n/a
Other Swarovski Shapes (click to visit)
Find your Swarovski crystals at Rhinestone Guy
Stand out from the crowd. Swarovski inspires the world of fashion, art and design with its leading innovations, design and trends' expertise. Swarovski rhinestones and crystal components are made of ""advanced crystal" and are lead free*, compliant with international standards.
*Crystal Glass and all other materials containing 0.009% lead or less