Swarovski Crystals New Releases
Swarovski is and has been a leader and the premium brand for the finest crystal elements. For more than 100 years, the company has been recognized for innovations and inspiration. Here are highlights of the most recent releases.
---
Swarovski Innovations & Inspirations
Spring / Summer 2020

~The Power of Emotions~
Swarovski 2020 Spring Summer Launch was inspired by the Power of Emotions and the need for an emotional balance in our world. Highlighting the need to reconnect, celebrate and create the new collection seeks to represent The Serenity of Being, The Joy of Expression, The Surprise of the Unexpected and The Excitement of Creativity.
The New Launch bring new Crystal Lacquer Pro DeLite Colors: Crystal Laguna DeLite, Crystal Lavender DeLite, Crystal Ocean DeLite, Crystal Peach DeLite and Crystal Sunshine Delite





A New Family of Crystal Spikes has arrived in Flat Back and Sew On Stones. The spike crystals are available in graduating sizes. Colors available: Crystal, Crystal AB, Golden Shadow & Volcano.
Our most extensive collection of Sew On Pears expanded with two new Sew On Pears colors, Light Amethyst and Light Amethyst Shimmer.


---
East to West, neon lights brighten many cities' nights… It's electric.  Now you can amp up your performance with high voltage Swarovski Crystal Electric lacquer pro stones.  Switch on the neon lights for high energy and extreme brilliance under the spotlights.  Introducing the new lacquer pro crystal electric colors: electric blue, electric green, electric orange, electric pink, electric yellow and electric white. Rhinestones created to deliver high octane sparkle.  Mixed with Swarovski's shimmer colors and our electric jet, high voltage blue and laser white, you will capture your audience the minute you step onto the stage. 
Shop Swarovski Flat Back Rhinestones







Top it off with




---

shop Swarovski 2088 SS48 Colors, Limited Edition
---
Swarovski Innovations & Inspirations
Fall / Winter 2019 / 20

~Be Yourself~
Swarovski's fall / winter innovations focus's on self expression, individualism and uniqueness. Drawing from to Swarovski's past Ultra Colors, Swarovski introducing 5 exciting Crystal DeLite Colors. These colors join the Lacquer Pro family and are inspired by nature. They are Crystal Light Grey DeLite, Crystal Army Green DeLite, Crystal Ochre DeLite, Crystal Burgundy DeLite, and Crystal Cappuccino DeLite. They can be combined with Lacquer Pro stones and Shimmer color to create an awesome fusion of colors.
The New Crystal DeLite colors, see their beauty:
Ideas for DeLite / Shimmer Pear Combinations:
Light Grey DeLite - Crystal Shimmer Pears
Army Light Green DeLite - Black Diamond Shimmer
Ochre DeLite - Light Topaz Shimmer
Burgundy DeLite - Amethyst Shimmer
Cappuccino DeLite - Light Colorado Topaz Shimmer
Crystal Shimmer (will work great with Crystal Shimmer crystals, and the new Light Grey DeLite) and Amethyst Shimmer (will work great with the new Burgundy DeLite rhinestones). The pears are available in all three sizes.


Pearl Cabochon Shapes:
New Flat Back Hot Fix, Crystal Pearl Cabochon were launched in 3 shapes and 3 sizes, Navette, Pear and Square. These shapes will be a great addition to any garment, and the small size is suitable for nail art application.
Swarovski Art. 3223 Navette Sew On Stone - Size Expansion:
The popular Navette sew on stone is not available in a large size, 29mmx14.5mm, Over an inch tall, and is just spectacular. The larger stones are available in Crystal, Crystal AB, Golden Shadow, and Jet.
Shop Art. 3223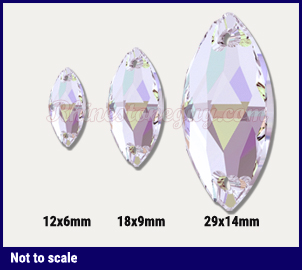 Core Assortment:
Swarovski added assortment of flat back crystals and sew on stones in 6 major colors:
Aquamarine;

Amethyst

;

Emerald

;

Jet

;

Light Colorado Topaz

; and

Scarlet
The addition of the shapes to the line of round stones can expand your designs. These beautiful colors, in addition to the standard round, flat back and hot fix crystals ar now available in:Flat back Navettes, Pears and Squares, and sew on 3200 Rivoli, and 3230 Pears
Find your Swarovski crystals at Rhinestone Guy
Stand out from the crowd. Swarovski inspires the world of fashion, art and design with its leading innovations, design and trends' expertise. Swarovski rhinestones and crystal components are made of ""advanced crystal" and are lead free*, compliant with international standards.
*Crystal Glass and all other materials containing 0.009% lead or less