Swarovski Pearl Cabochons
Art. 5817
Swarovski Art 5817 Pearls Cabochons are a unique imitation to natural pearls. Made in an innovative process they feature a unique crystal core covered with beautifully silky smooth pearl coating. The pearls are exquisite coated to perfection with a sheen surface. The pearls feature a flat bottom, cabochon pearl, and can be glued. They are available in 3 sizes 6mm (30ss or approx. 1/4 inch), 8mm and 10mm. We stock a variety of colors as shown, additional colors are available by special order. The 5817 pearls are sold in 25 piece increments or in Bulk, 250 pieces, discounted.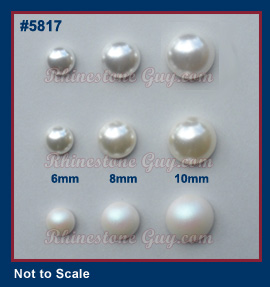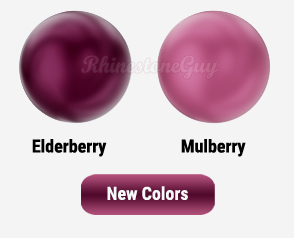 Standard colors:
Crystal Bronze, Crystal Cream, Crystal Dark Grey, Crystal Light Grey,Crystal Peach
Crystal Rosaline,Crystal Crystal Rose Gold, Crystal Velvet Brown, & Crystal White





Effect Colors:
Crystal Iridescent Dark Blue,Crystal Iridescent Green, Crystal Iridescent Grey,
Crystal Iridescent Light Blue, Crystal Iridescent Purple,
Crystal Iridescent Red, Crystal Scarabaeus Green
Crystal Iridescent Tahitian Look and Crystal Pearlescent White




Prices
Swarovski 1/2 Drilled Pearl Cabochon - Art 5817

Not Available in 10mm: Iridescent Dark Blue, Iridescent Light Blue,
Iridescent Red, Iridescent Tahitian look, Velvet Brown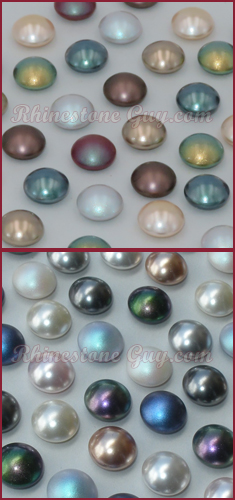 25 Pieces

6mm

-25

8mm

-25

10mm

-25
50 Pieces

6mm-50

8mm-50

10mm-50

250 Pieces

6mm

-250

8mm

-250

10mm

-250
Standard Colors
$9.49
$14.09
$15.29
Standard Colors
$17.59
$25.99
$28.39
Standard Colors
$72.29
$107.29
$116.99
Effect Colors
$10.89
$15.99
$17.49
Effect Colors
$19.99
$29.69
$32.49
Effect Colors
$82.59
$122.49
$133.69
Additional Pearls
(click to visit)

Rhinestone Guy Premium Pearls -Flat Back Pearl Cabochons
Swarovski Art 2080 / 4 Hot Fix Pearls
Find your Swarovski crystals at Rhinestone Guy
Stand out from the crowd. Swarovski inspires the world of fashion, art and design with its leading innovations, design and trends' expertise. Swarovski rhinestones and crystal components are made of ""advanced crystal" and are lead free*, compliant with international standards.
*Crystal Glass and all other materials containing 0.009% lead or less