Swarovski Margarita Sew On
Art. 3700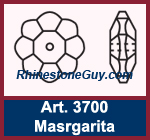 Swarovski 3700, Sew On Margarita Lochrosens are flower shaped sew on rhinestones drilled in the center. The 3700 Margaritas we carry have foiled back for extra reflection. Some sew them on with monofilament thread, or use a small bead to cover the hole. Sewing jewels are great for added style and sparkle. Some refer to them as Margarita Beads.
They are available in sizes ranging from 6mm to 14mm. We carry them in Foiled Crystal and Crystal AB. Other colors are available by special order with minimum quantities. See listing of colors below.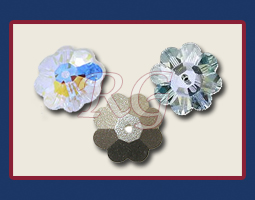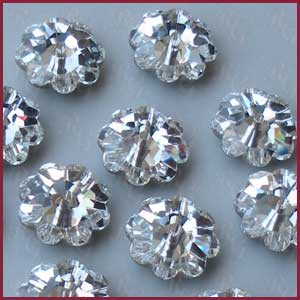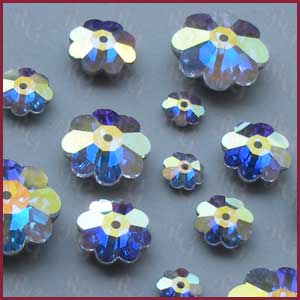 Prices
DOZEN, GROSS

PRICE

&

BULK

PRICE

-

(by the package as noted)

Swarovski Margarita 3700 Sew On:

Swarovski Margaritas are sold in various quantities as noted. Bulk packages are the most discounted.

A Dozen or DZ = 12 pieces
1/2 Gross or 1/2 Gr = 72 pieces
A Gross or Gr = 144 pieces

Size/Qty

6mm -1/2 Gross

8mm -Dozen

10mm - Dozen

12mm -Dozen

14mm -Dozen

Per Gross

6mm - Gross

8mm - Gross

10mm - Gross

12mm-Gross

14mm-Gross

BULK

6mm -5 Gross

8mm -2 Gross

10mm -2 Gross

Crystal
$11.29
$3.89
$5.09
$5.99
$7.59
Crystal
$20.99
$43.09
$55.99
$59.29
$74.69
Crystal
$86.49
$71.19
$92.49

Crystal AB
$13.59
$4.69
$6.09
$7.19
$9.09
Crystal AB
$25.19
$51.69
$67.19
$71.19
$89.99
Crystal AB
$103.89
$85.39
$110.99
---
Other Swarovski Sew On Jewels
(click to visit)
Find your Swarovski crystals at Rhinestone Guy
Stand out from the crowd. Swarovski inspires the world of fashion, art and design with its leading innovations, design and trends' expertise. Swarovski rhinestones and crystal components are made of ""advanced crystal" and are lead free*, compliant with international standards.
*Crystal Glass and all other materials containing 0.0009% lead or less