Swarovski Triangle
Art. 2711 - Hot Fix
Swarovski 2711 hotfix triangles have a flat top with facets on the edges. They feature a silver foil back for extra reflection. They can be applied with proper hot fixing techniques/tools. Rhinestone shapes are great for added design, style and sparkle.
Swarovski Hot Fix Triangles are available in 6mm in Crystal an Crystal AB. 6mm is approx. a size of a 30ss rhinestone. Swarovski does not produce these rhinestone shapes in a flat back no-hotfix format.
Hot Fix Triangles are sold by the Gross (144 pieces) or 1/2 a gross (72 pieces) and in full factory packages, discounted.
Note: when you receive hot fix rhinestone shapes sometimes they appear dull, this is from dust created by the glue on their back, just wipe them carefully.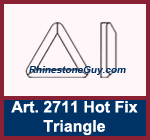 Brand: Swarovski, Austria
Name: Triangle Hot Fix
Article #: 2711


Swarovski 2711 Hot Fix Triangle Prices:
1/2 Gross = 72 pieces; 1 Gross = 144 rhinestone shapes; Measured by weight
2.5 Gross = 360 Pieces, Factory Package
1/2 Gross

6mm

-1/2 Gr
1 Gross

6 mm

-1 Gr
Bulk 2.5 Gr

6mm-2.5 Gr
Crystal

1/2g

$25.09
Crystal
$46.39
Crystal
$95.89
Crystal AB

1/2g

$30.89
Crystal AB
$57.29
Crystal AB
$118.29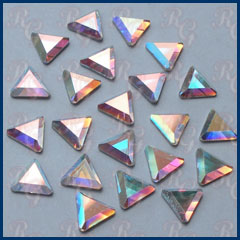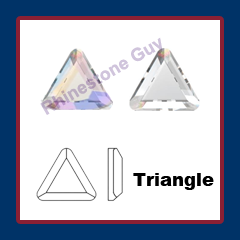 Other Swarovski Hot Fix Shapes (click to visit)
If you can GLUE or need more options, Swarovski has a great selection
of Flat Back Rhinestone Shapes