Swarovski Curvy
Art. 2540 - Flat Back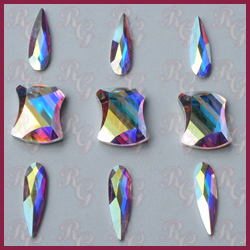 Swarovski Curvy have unique shape and facets, creating an appearance of a fancy stone. Similar to the Swarovski starlet, it is a rectangle shape with two rounded side and two concave, curved sides. The unique cut of this rhinestone shape make it very versatile.
The Curvy shapes have flat back and are silver foiled for extra reflection.
We carry them in stock in 3 different sizes in Crystal and Crystal AB. They are sold by the Dozen (12 pieces) or in bulk, by the Box (discounted).
Because of their rounded sides they can be used with many other rhinestone shapes to create unique designs.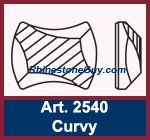 Brand: Swarovski, Austria
Name: Curvy Flat Back
Article #: 2540


We carry them in:

Swarovski Curvy is sold by the Dozen or by the Box (In Bulk)
1 Dozen DZ)= 12 pieces, 1 Grs - 144 pieces, 2 Grs = 240 pieces
Size

7x5.5mm-Dozen

9x7mm-Dozen

12x9.5mm-Dz

Bulk (Box)

7x5.5 mm-2 Grs

9x7 mm

-1 Grs

12x9.5 mm

-8 Dz
Crystal
$6.19
$13.09
$18.79
Crystal
$100.59
$121.49
$123.79
Crystal AB
$6.99
$13.89
$21.39
Crystal AB
$113.79
$136.99
$140.29
Other Swarovski Shapes (click to visit)

Find your Swarovski crystals at Rhinestone Guy
Stand out from the crowd. Swarovski inspires the world of fashion, art and design with its leading innovations, design and trends' expertise. Swarovski rhinestones and crystal components are made of ""advanced crystal" and are lead free*, compliant with international standards.
*Crystal Glass and all other materials containing 0.009% lead or less