Swarovski Navette - Art. 2200 - Hot Fix
Swarovski 2200 Hot Fix Navette has a long oval shape that tapers at both ends. Some call this shape a marquee.
The top of this navette is flat. It is silver foiled for extra reflection. Rhinestone shapes are great for added design, style and sparkle.
Navettes are sold by the Gross (144 Pieces) or 1/2 Gross (72 pieces).
Note: when you receive hot fix rhinestone shapes sometimes they appear dull, this is from dust created by the glue on their back, just wipe them carefully.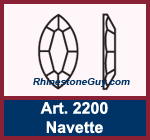 Brand: Swarovski, Austria
Name: Navette
Article #: 2200 Hot Fix




Swarovski 2200 Hot Fix Navette Prices:
1/2 Gross = 72 pieces; 1 Gross = 144 rhinestone shapes; Measured by weight
2.5 Gross = 360 Pieces, Factory Package
1/2 Gross

8x4mm

-1/2 Gr
1 Gross

8x4 mm

-1 Gr
Bulk 2.5 Gr

8x4mm-2.5 Gr
Crystal

1/2g

$23.59
Crystal
$43.79
Crystal
$90.39
Crystal AB

1/2g

$29.19
Crystal AB
$54.09
Crystal AB
$111.59
Jet

1/2g

$26.49
Jet
$48.99
Jet
$100.99
---
Other Swarovski Hot Fix Shapes (click to visit)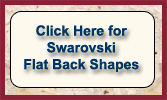 Find your Swarovski crystals at Rhinestone Guy
Stand out from the crowd. Swarovski inspires the world of fashion, art and design with its leading innovations, design and trends' expertise. Swarovski rhinestones and crystal components are made of ""advanced crystal" and are lead free*, compliant with international standards.
*Crystal Glass and all other materials containing 0.009% lead or less