Swarovski Pearls
Art. 2080/4 - Hot Fix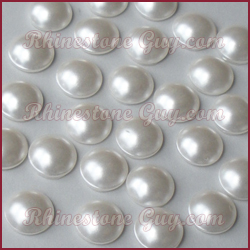 Swarovski 2080/4 Hot Fix faux pearl flat back cabochons are domed, smooth with a pearly finish. The pearls be hot fixed with either a heat press or hand held hot fix tool. While they are hot fix, they can also be glued.
We stock the Crystal White (natural pearl look) pearls. Swarovski makes additional hot fix pearls in a variety of colors. We can get them for you in any color you choose by special order. You will have to purchase the full swarovski package.
We have them them in sizes 10ss (2 gross minimum purchase), 16ss (4mm) and 34ss (7mm) that are sold by the gross.
We carry our own brand line of Hot Fix faux pearls with a great variety of sizes and selected colors, and great prices, see RG Pearls.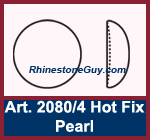 Brand: Swarovski, Austria
Name: Pearl Hot Fix
Article #: 2080/4
Color: Crystal White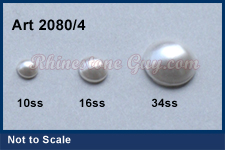 Swarovski 2080/4 Hot Fix Pearls Gross Prices
1 Gross = 144 rhinestone shapes; Measured by weight, Price Per Gross, 3mm pearls have two gross minimum, prices are per gross.
Size

10ss(3mm)

16ss(4mm)

34ss(7mm)
Crystal
$5.29 -

2 G Min

$7.19
$20.39
Swarovski 2080 Hot Fix Pearls Bulk Prices
The following are prices for hot fix pearls in factory sealed packages. There are other color pearls available from Swarovski. We can special order those for you. You will need to purchase the whole package.
10 Gross = 1,440 pieces. The 34ss is packed by the gross, so see gross prices.
Size

10ss - 10 Gross

16ss-10 Gross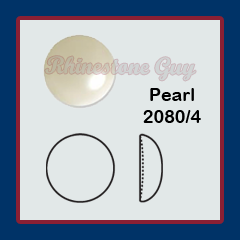 Other Swarovski Hot Fix Shapes (click to visit)
Additional Pearls
(click to visit)
If you can GLUE or need more options, Swarovski has a great selection
of Flat Back Rhinestone Shapes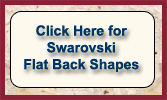 Find your Swarovski crystals at Rhinestone Guy
Stand out from the crowd. Swarovski inspires the world of fashion, art and design with its leading innovations, design and trends' expertise. Swarovski rhinestones and crystal components are made of ""advanced crystal" and are lead free*, compliant with international standards.
*Crystal Glass and all other materials containing 0.0009% lead or less