Swarovski Rivoli - Pointed Chatons
Art. 1122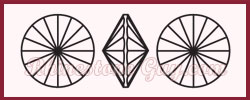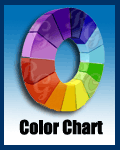 Swarovski Crystals 1122 pointed back Rivoli Chatons (rhinestones) have an amazing depth. They are faceted all the way around, both front and back, and come to a point at the center of the stone on both sides, giving it vertical facets from the tip to the bottom.
The Rivoli features foil on the back of the stone for extra reflection refraction and clarity. These stones should be set into metal setting with prongs or into cast settings with pre drilled cavities (can be glued).
These pointed rhinestones are primarily used for jewelry and accessories. They can be used in any art or craft project.
They are available in sizes 17ss (approx. 4.1mm) up to 18mm (approx. 3/4") in Crystal, Crystal AB, Various swarovski colors and effects/coated stones depending upon the size needed. They are not made in any AB colors, except the Crystal AB. We sell them by special order, by the package. We do not sell these in small quantities at this time. Note: Not ALL Swarovski colors are available.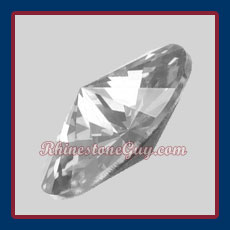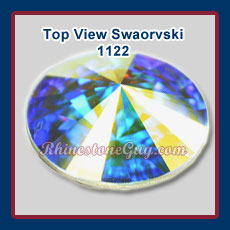 They are sold in factory packages:
10 Gross = 1,440 pieces; 5 Gross = 720 pieces; 2 Gross = 288 pieces, 1 Gross = 144 pieces and 1/2 Gross = 72 pieces
ALL EFFECTS ARE UN-FOILED (UF)
Price per Package, package quantities as noted
Size

17ss-10 Gross

24ss-5 Gross

29ss-5 Gross

34ss-2.5 Gross

39ss-1 Gross

47ss-2 Gross

12mm-1 Gross

14mm-1 Gross

16mm-1 Gross

18mm-1/2 Gross
Crystal
$57.59
$46.99
$65.99
$47.49
$27.29
$97.09
$60.39
$80.49
$107.29
$71.59
Crystal AB
N/A
$65.29
$93.79
$67.39
$38.69
$138.09
$85.69
$113.79
$152.39
$101.69
Std Colors
N/A
N/A
$79.89
N/A
$32.99
$117.09
$73.09
$97.29
N/A
$86.59
Effect UF
N/A
N/A
$86.89 UF
N/A
$35.79 UF
$128.09 UF
$79.49 UF
$105.99 UF
N/A
$101.69