Radiance Metallic Jewels (Nailheads)
Hot Fix or Glue On

The latest addition to Rhinestone Guy's line of embellishments. Bring to your design, dimension and extreme shine with round and square radiance jewels.
They are hot fix, however, they can also be glued. Their shine is unbelievable because of their unique cuts and facets.
Radiance jewels are available in both round and square shapes. They can be incorporated with many stones to create dynamic designs. See bottom of this page for what we were able to create with various Swarovski and Czech Preciosa jewels.
We bring you these jewels in an assortment of sizes and colors. Round radiance go from 6mm (1/4 inch, or 30ss rhinestone size) to 18mm (3/4 inch, almost a size of a quarter), see photos below. The square radiance shapes start at 4mm (16ss) and go up to 15mm (almost 3/4 of an inch). Radiance are sold by the dozen (12 pieces), 1/2 Gross (72 pieces), 1 Gross (144 pieces ) and 5 gross packs (720 pieces).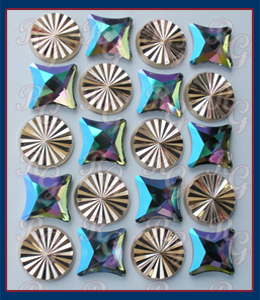 For Additional Concepts
and Ideas
See photos below
Radiance Rounds





Radiance Rounds are sold as follows:
1 Dozen = 12 pieces
1/2 Gross = 72 pieces
1 Gross = 144 Pieces
5 Gross = 720 pieces
*NOTE: 10 MM ONLY AVAILABLE IN HEMATITE!
Size

6 mm

10Mm-HEMI ONLY

12 mm

18 mm
Dozen
$2.69
$4.79
$6.29
$9.29
1/2 Gross
$13.59
$22.99
$29.99
$44.99
1 Gross
$21.79
$36.79
$47.89
$79.99
Radiance Squares





Radiance Rounds are sold as follows:
1 Dozen = 12 pieces
1/2 Gross = 72 pieces
1 Gross = 144 Pieces
5 Gross = 720 pieces
Silver Square is ONLY available in 4mm,6mm,8mm,12mm and 15mm
* This size is NOT available in Silver
Please note: 4mm squares have a 6 Dozen /1/2 gross minimum
Size

4 mm

6 mm

8 mm

10 mm

*

12 mm

15 mm
Dozen
N/A
$2.69
$3.59
$4.79
$6.29
$8.79
1/2 Gross
$10.79
$13.59
$17.29
$22.99
$29.99
$38.99
1 Gross
$16.99
$21.79
$27.59
$36.79
$47.89
$62.79