RG Studio
Hot Fix Rhinestones
Introducing the latest addition to Rhinestone Guy's line of rhinestones, RG Studio.
This line of Austrian Crystals features flat back and hot fix rhinestones as well as Sew On Jewels. These uniquely faceted crystals provide amazing flash and sparkle at a price point below that of other top brands, Swarovski and Czech Preciosa.
RG Studio machine cut crystal are lead free. They are created by premier crystal artisans in Austria. The rhinestones feature a distinct 12 facet geometry consisting of 9 large facets and 3 micro facets. The innovative cut provides an amazing brilliance and blinding flash.
Made in Austria
9 Large Facets with 3 Micro Facets -- Extreme Flash!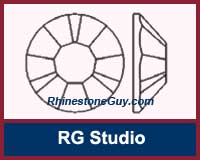 The RG Studio line of rhinestones comes in multitude of sizes. The crystals have color consistencies from the smallest to the largest. We recommend you consult your sample card for color accuracy.
The crystals have a flat back surface with advanced silver foiling making them very durable and suitable for a wide range of applications. They feature high wash resistance making them very durable and long lasting.
Do not underestimate the beauty of these rhinestones ...excellent value and excellent choice of stones.
We currently stock Crystal and Crystal AB; colors are available by special order with minimum purchase, same size, same Color.
RG Studio hot fix rhinestones are sold as follows:
6, 8 and 10ss stones -

minimum 1 Gross

12ss to 16ss - minimum purchase 1 gross
20ss to 34ss - minimum purchase 1/2 gross
---
For best pricing you should consider purchasing bulk packages. These are discounted. It means Same Size / Same color:
6ss to 20ss - 10 Gross Package (1,440 rhinestones)
30ss and 34ss - 2 Gross Package (288 rhinestones)
If you need for example 12 Gross of 20ss rhinestones, 10 will be at the Package Price and the 2 will be at the regular Gross price.
Prices
See Complete Price List

or, Shop by Size