Rhinestone Guy Featuring: Swarovski Ombré Effect
The Ombré Effect describes a color graduation of tones from light to dark. It has become a major trend in apparel, nail, dance and costume design. Swarovski rhinestone colors can create a picture perfect Ombré Effect. The effect will add a WOW factor to any design. Whether your dress or costume design needs a hot fiery burst, a frosty blue touch, or a feminine pink flare, you can create a seamless color transition from light to dark with Swarovski crystal colors.
We took the guess work and created Ombré Effect color combinations with special pricing

15% off retail price

to get you inspired.
Sizes: SS12 to SS20, 2 Gross (288) from each color a total of 1,440 rhinestones.
Size SS30, 1 Gross from each color to a total of 720 crystals.
---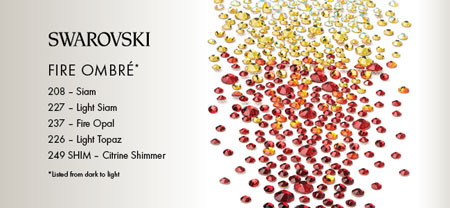 The Fire Ombré
Colors: Siam, Light Siam, Fire Opal, Light Topaz and Citrine Shimmer.
Size 12ss - $52.99
Size 16ss - $72.19
Size 20ss - $95.99
Size 30ss - $98.59





---
The Frosted Ombré
Colors: Crystal Royal Blue, Light Sapphire, Light Sapphire Shimmer, Crystal Shimmer and Crystal
Size 12ss - $52.59
Size 16ss - $71.29
Size 20ss - $95.89
Size 30ss - $100.99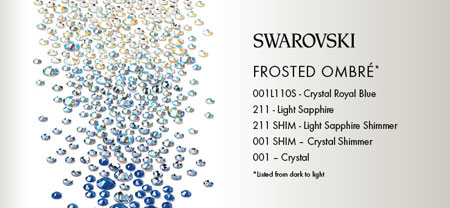 ---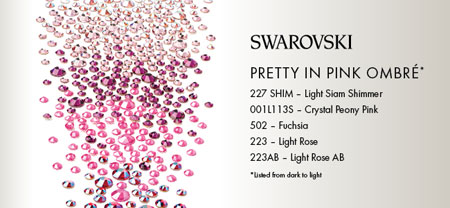 The Pretty in Pink Ombré
Colors: Light Siam Shimmer, Crystal Peony Pink, Fuchsia, Light Rose and Light Rose AB
Size 12ss - $54.89
Size 16ss - $74.99
Size 20ss - $100.49
Size 30ss - $105.39





Find your Swarovski crystals at Rhinestone Guy
Stand out from the crowd. Swarovski inspires the world of fashion, art and design with its leading innovations, design and trends' expertise. Swarovski rhinestones and crystal components are made of ""advanced crystal" and are lead free*, compliant with international standards.
*Crystal Glass and all other materials containing 0.0009% lead or less