RG Hot Fix Turquoise
50% OFF SALE!
Turquoise "faux" stones (cabochons) are half domed, smooth and have a flat back. In addition to our Hot Fix Turquoise (can be hot fixed, glued or mounted). The turquoise cabochons have faux veins through them and no two are the same.
We also carry Glass Matrix Turquoise Cabochons (can be glued or mounted). The Glass Cabochons are taller/deeper and more fragile (they are glass).
Hot Fix Turquoise mounting may require a bit work as they are shallower than glass cabochons. If hot fix method used: because of the material they are made of, the time it takes to melt the glue is shorter then a rhinestones.

RG Hot Fix Turquoises are available in 12mm and 15mm: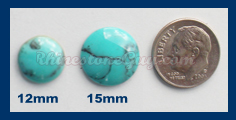 RG Hot Fix Turquoises are sold as noted
1/2 Gross = 6 Dozen = 72 pieces
1 Gross = 12 Dozen = 144 pieces
10 gross = 1,440 pieces
Select the tabs below for various quantities and pricing options:
Per Gross
$34.99
$64.89
1/2 Gross
$38.99
Sale/Gross
$17.49
$32.49
1/2 Gross
$19.49